| | |
| --- | --- |
| | Broadcast Pioneers of Philadelphia is a federally recognized, state chartered 501(c)(3) non-profit organization serving the Philadelphia Broadcast Community since January of 1962. |
January Afternoon Luncheon
The Bala Golf Club, Philadelphia
Wednesday, January 17, 2018

Meet and Greet at 12 noon!
Lunch served at 12:30 pm
Ratecard: $28 per person

Please reserve now!
Call (856) 365-5600
rsvp@broadcastpioneers.com
Another Third Wednesday Luncheon!
Wednesday, January 17th, 2018!
Good Food - Great Programs - Wonderful Times
All Things Sports!
Lunch is only $28 per person!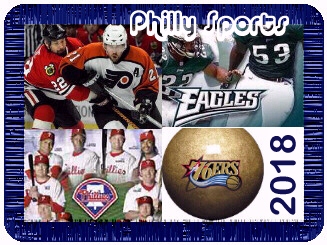 IT WILL BE A GREAT TIME!

Hit After Hit, Smash After Smash, Blockbuster After Blockbuster... Here's another "monster" lunch where the "stars" don't wait to come out at night. They're there at lunchtime!
Kick off the New Year with our JANUARY SPORTS SPECTACULAR. The topic is ALL THINGS SPORTS! This is sure to be a blockbuster event because we have the Super Sizzling Seven of Sports with us! Don't miss this one! Everyone who's anyone is going to be there!.Save the date! It's Wednesday, January 17th. That's the third Wednesday of the month.
Meet and greet (networking & reception) starts at noon and lunch will be served at 12:30 pm. Be sure you have your place by making your reservation(s) NOW. E-mail Broadcast Pioneers at: rsvp@broadcastpioneers.com. Call (856) 365-5600. Our MC for the afternoon will be Broadcast Pioneers member Joe Pellegrino, former sports anchor for WPVI and WCAU-TV!!
Our scheduled panel will include (in alphabetical order):
Dan Baker, sportscaster & public address announcer for the Phillies & Eagles
Skip Clayton, sports book author, sports broadcaster and station programmer
Vince Papale, sports broadcaster & former Philadelphia Eagles football player
Lou Tilley, former KYW-TV Sports Director, now broadcasting sports in China
Bill Vargus, the former sports director for Fox 29, WTXF-TV, Channel 29
Bill Werndl, well-known sports network & area broadcaster and sports author
Member Marciarose Shestack will be with us that day. In the sixties, KYW-TV's sports department wasn't doing very well in picking winners. Someone said, "Marciarose could do better." Of course, she didn't know much about sports. So she picked the winners based on other criteria, like which uniforms looked better. She'll be with us to tell about her sports predicting days and may even offer a few choice predictions for the coming sports year.
We'll also will be celebrating the 70th birthday of WRTI, Temple University Radio. Tobias Poole (Operating Director) and Bill Johnson (General Manager) from the station will join us.
It all takes place at the beautiful and historic Bala Golf Club, 2200 Belmont Avenue (across the street from the state police) in the Wynnefield section of Philadelphia. Only minutes away from Channels 6, 10 and 17 and the radio stations in Bala Cynwyd. Call now for reservations. (856) 365-5600! E-mail: rsvp@broadcastpioneers.com. Don't miss this one! THIS EVENT IS OPEN TO THE PUBLIC! Make plans to be there. Bring a friend (or three)! Meet and Greet starts at 12 noon. Lunch is served at 12:30 pm. It includes a nice, fresh, green salad with dressing, a roll, a 3-course meal, dessert, iced tea and coffee.
Plenty of FREE parking. Our luncheons are open to all our members, their guests, and any person in the industry or associated fields, whether active or retired. You do NOT have to be a member to attend. There is no reserved seating at our luncheons. Feel free to sit anywhere. Well, okay--the three people on the camera crew sit near the cameras, but that's in the back of the room.
In order to speed up check-in at the luncheon, it would help if you had exact change or your check written in advance. Checks should be made payable to the Broadcast Pioneers of Philadelphia.
If you would like to add a few dollars extra, we would appreciate it. It would help us with all the important work we are doing. Thanks!

WE WANNA SEE
YOUR FACE IN THAT PLACE!
Visit Our Website Often - http://www.broadcastpioneers.com
You should check the front page of our website often (link above) for important information!
Tune in to our YouTube Channel - http://www.broadcastpioneers.com/youtube
Our YouTube Channel has all our luncheons, exclusive interviews and archival material!
Check out our Facebook Page - http://www.broadcastpioneers.com/facebook
There are things on our Facebook Page that are NOT on our website (like our vintage photo of the week)
Go to our Twitter Account - http://www.broadcastpioneers.com/twitter
The Broadcast Pioneers Twitter Account has info and stuff not available elsewhere!
Go to our Instragram Section - http://www.broadcastpioneers.com/instagram
Here's another one of our social media sections. Visit it as often as you wish!
NEW MEMBER TO BROADCAST PIONEERS:
FULL MEMBER:
Karen Friedman has been in our industry for over four decades. We all know her as a TV news reporter at WPVI here in Philadelphia. However, we should also recognize her work as a business communication coach, syndicated columnist and author of the best-selling book, "Shut Up and Say Something." Karen earned her degree at Penn State and continued her studies at the University of Manchester in Great Britain.
We are thrilled to have over 500 Members. More than ever. We hope to see as many of our members as possible at our January luncheon. Get your reservations now!
DIGITAL ARCHIVAL PROJECT NEWS:
VIDEO: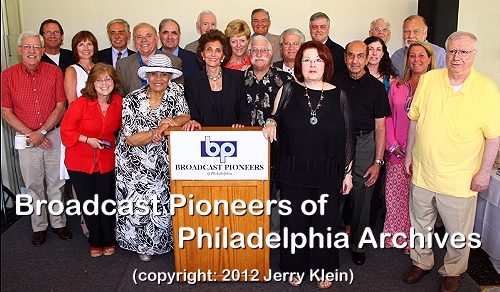 Some of the Channel 3 gang
at our Broadcast Pioneers Luncheon
Bala Golf Club, Philadelphia
Wednesday, June 20, 2012
Our last luncheon for the 2011-2012 season was on Wednesday, June20th. It was a salute to "80 Years of Channel 3." Our MC was Broadcast Pioneers member Marciarose Shestack, who was an anchor at KYW-TV for decades.
Our speakers included (in alphabetical order): Susan Barnett, Betty Kellner Davis, Jim Donovan, Trudy Haynes, Tom Lamaine, Big Al Meltzer, Ray Murray, Dick Sheeran, Stephanie Stahl and Dick Standish.
(video courtesy of Broadcast Pioneers VP Brad Seecof and Metramedia Broadcasting & Studios)
AUDIO: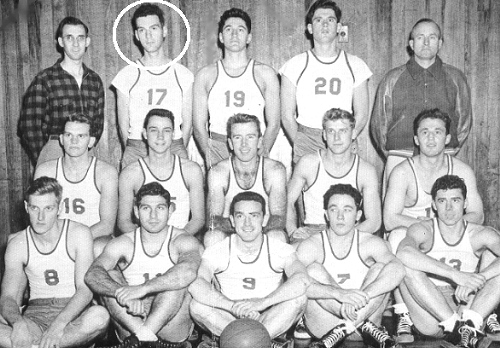 Big Al Meltzer's College Basketball Team
circa 1948
At that same luncheon, we spoke live on the telephone with Broadcast Pioneers member Vince Leonard at his home in Las Vegas. Doing the interview was Broadcast Pioneers member Big Al Meltzer.
Big Al Meltzer speaks with Vince Leonard
Big Al had a great time speaking with Vince Leonard so we thought he should speak with former KYW Anchor Mort Crim at his home in Florida. Again, Meltzer doing the interview.
Big Al Meltzer speaks with Mort Crim
Today's News Becomes Tomorrow's History!
(This is what our Digital Archival Project, DAP, is all about!)
IN TOUCH WITH OUR MEMBERS:
Member Merrill Reese, co-owner of WBCB in Levittown has had much to celebrate recently. His station turns 60 years old last month. The station was originally started by Attorney Drew O'Keefe. He retained the station until his death when it went to Reese and a local businessman Pasquale Dean. The station broadcasts 24 hours a day on 1490 AM and covers Bucks County and the Northeast section of Philadelphia.
One night our CEO Gerry Wilkinson had picked up his younger daughter, Zara, 32 at the train. She was coming home from work as a librarian. When they were walking to the house, Gerry pointed out the metal yellow grid attached to a nearby utility pole. He wondered what they were. Well, Zara looked it up on the Internet and found a story written by Mike DeNardo from KYW Newsradio. The answer was simple. It was there to reflect the headlights of vehicles. PECO hopes that it will cut down on the number of poles that are struck causing power outages. The company has been doing this since 2007 and now, most of PECO's 400,000 poles now have these reflectors.
Broadcast Pioneers members Bobbie and Henry Shaffner had a nice full-color three page article written about them and their songwriting career. The article was published at the end of last month in "The Good Life," a supplement of the Jewish Exponent. Did you know that they met President Jimmy Carter on the White House Lawn? Well, it's all in this article.
Entercom Philadelphia's 16th annual 98.1 WOGL Loves Our Kids Radiothon, sponsored by the Philadelphia Area Mazda dealerships, raised over $300,000 for The Children's Miracle Network at Children's Hospital of Philadelphia. The Radiothon was broadcast live on Thursday, December 7 and Friday, December 8 from the Ryan Seacrest Foundation's "Seacrest Studios" located in the Colket Atrium at Children's Hospital of Philadelphia. Donations were taken by phone, online and in person. 98.1 WOGL-FM hosts were Marilyn Russell, Harvey Holiday and Nicky G.
"We are immensely grateful to our generous community of listeners, fans and clients who supported the 16th annual 98.1 WOGL Loves Our Kids Radiothon to help the kids at Children's Hospital," said Broadcast Pioneers member David Yadgaroff, Entercom Philadelphia's Senior Vice President and Market Manager. "We sincerely thank each and every person who contributed to making this year's event a huge success, including all of the volunteers and the on-air personalities who donated their time and talent."
Temple University's Klein College (the former School of Communications) presented its first Klein College Tribute Award to Broadcast Pioneers Board Member Kal Rudman, a Temple University graduate. It was presented in recognition of his significant contributions to the college.
The award was presented by Klein College Dean David Boardman, a Broadcast Pioneers member, at the college's winter graduation ceremonies on Thursday, December 21st.

Boardman said, "Few people have had as much positive impact on our college as Kal Rudman. His generosity and his vision have created world-class opportunities for Klein College students.... In creating this Tribute Award, we wanted to pay special honor to people who have given extraordinarily of their time, energy, spirit and resources. Kal is the perfect first recipient."

"The commitment that (Rudman) has made and shown to our students is beyond generous and, most important, is unwavering," said TUTV general manager Paul Gluck, also a member of Broadcast Pioneers.

Kal received the highest honor that Broadcast Pioneers of Philadelphia can offer. In 2007, Rudman was this organization's "Person of the Year." In 1998, Kal was inducted into our "Hall of Fame." Kal Rudman has served continuously on our Board of Directors since 1995 and has served as Vice-President of this organization for 4 years.

Kal has shown his generous nature with Broadcast Pioneers also. Over the decades, Kal has funded dozens upon dozens of scholarships for us to award. In 2018, we will again award five $1,000.00 scholarships underwritten by Rudman.

The Klein College at Temple University was named after member Lew Klein, a former president and chairman of the board of the Broadcast Pioneers of Philadelphia.
Today's News Becomes Tomorrow's History!
(This is what our Digital Archival Project, DAP, is all about!)
A LITTLE BIT OF BROADCAST HISTORY!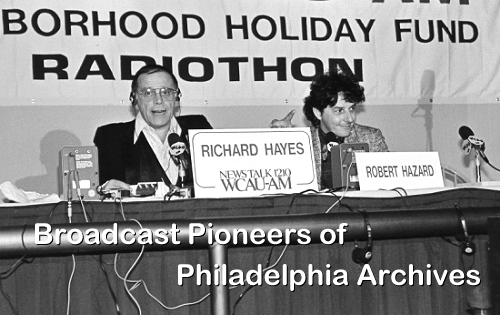 Richard Hayes interviewing Robert Hazard
WCAU Radio
during their Neighborhood Holiday Radiothon
circa 1983
Richard Hayes, a WCAU Radio talk host is shown here interviewing rock musician Robert Hazard. Hayes was a pop singer in the fifties and sixties. He reinvented himself as a radio talk show host here in Philadelphia and in New York City.
Did you know...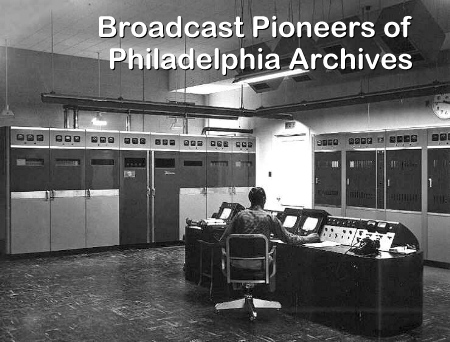 The RCA TT5-A Television Transmitter
WCAU-TV
1954
(Different shot than the one we ran last month)
Two months ago, we ran part one about the WCAU-TV transmitter in the fifties. This month, we pick up where we left off.
Here's some additional details on the RCA TT5-A transmitter. The TT5-A was a television broadcast transmitter with a nominal power output of five kilowatts peak aural power. It was designed to operate on any of the 12 VHF channels. The entire transmitter was housed in eight steel cabinets which were fastened to a base frame.
This frame was divided in such a manner that the eight cabinets could be placed in either a straight line with an overall width of 17 and a third feet (208") or in a "U-shaped" arrangement with the smallest possible width of 12 and a half feet (150"). Each cabinet was seven feet tall, with a depth of 38 inches and had both a front and rear door. The components and wiring, according to RCA, were arranged to permit maximum accessibility. The visual section of the transmitter was located on the right side and the aural section was on the left. The power supplies and control panel were for both sections were in the center.
The visual section of the transmitter consisted of a crystal oscillator followed by r-f amplifiers and a grid-modulated power amplifier. The use of the final amplifier, grid-modulation made possible the operation of all drivers stages as high-effciency, narrow-band, class "C" amplifiers, which could be tuned quickly and easily from front panel meter observations.
The final power stages of the aural and visual sections each used the RCA 8D21 dual tetrode operated as a push pull amplifier. Dual tetrode construction did away with the need for neutralization of these stages, assuring better picture quality and less likelihood of adjacent channel interference.
The aural section utilized the RCA Direct FM exciter, followed by amplifiers and the power amplifier. All high power circuits were protected by high speed overload relays backed up by thermal type circuit breaker switches.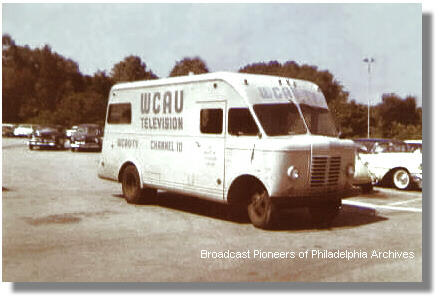 WCAU-TV Remote Unit
September 1958
(note that this is the same truck used beginning in 1948, just repainted)
(photo taken by WCAU-TV longtime tech Charlie Higgins)
Certain controls on the control panel such as "start-stop" and aural and visual input gain controls were duplicated on the console control supplied with the transmitter. In addition, the control console contained a picture monitor and oscilloscope, switches for operating tower lights, a VU meter for the aural channel, and meters which operated from the reflectometers in the transmission line. These meters gave indications for determining power output as well as standing wave ratio on the transmission line.
RCA said: In order to provide greater convenience in shipping and installation, the transmitter is partially disassembled which it leaves the factory. The largest unit, uncrated, is 25x30x80 inches, and no single unit weighs over 1000 pounds. This facilitates handling in confined spaces and elevators. All connections between units are made from conveniently located terminal boards on each unit.
The total weight of the transmitter unit was 8000 pounds. The console weighed 600 pounds and the water circulating system (it was water cooled) weighed 1300 pounds. Its finish was a two-tone umber gray with satin chrome trim and fittings. The RCA stock number was MI-19205-A plus MI-19205-B.
Charlie Higgins explained how the RCA transmitters got their model number. TT was the transmitter type (TT=Television Transmitter). Next came the Output Power which in this case was 5 kilowatts. Finally, came the design. A stood for the first version. B, the second, etc. Thus, it was a TT5-A. For the transmitter installed in 1979 and 1980 (TT50-FH), it was TT for Television Transmitter. 50 for 50 kilowatts. F for the sixth version and H stood for High Band (channels 7 thru 13). L, by the way stood for Low Band or channels 2 thru 6.
Special thanks to longtime WCAU-TV tech Charlie Higgins for his assistance in putting together this article. Charlie also supplied the pictures.
Our special thanks go to TUTV - Temple University Television and The Kal & Lucille Rudman Media Production Center.

They have again underwritten a grant to be used to fund an entire year of all our newsletters for calendar year 2018. We thank them so much for their continued and ongoing support!
You Can Help Us!



When you log into Amazon via http://smile.amazon.com, all eligible purchases earn Broadcast Pioneers a donation of 0.5% from Amazon. However, you must log in to Amazon through http://smile.amazon.com. We have made it simple. You can also log into them using http://www.broadcastpioneers.com/amazon. It's easy to remember and takes you to the same place.
AmazonSmile is the same Amazon you know. Same products, same prices and the same service. The only difference is that they donate 0.5% of your eligible purchases to Broadcast Pioneers. IT DOESN'T COST YOU ANY MORE TO DO THIS! Same price to you and we get a donation to help us continue with all our great educational projects! IT'S WIN - WIN!
MORE DIGITAL ARCHIVAL PROJECT NEWS:
VIDEO:
Our last luncheon for the calendar year 2013 was on Wednesday, December 18th. It was a Tribute to Sally Starr with guest speakers Jerry Blavat, Ed Cunningham, Charlie Gracie and Chuck Darrow of the Philadelphia Daily News. Our MC for the afternoon was Broadcast Pioneers board member Diego Castellanos, who is the host of "Puerto Rican Panorama" on WPVI-TV. It's the longest running show of its type. Diego has been on 6abc for 48 years. Relive that great luncheon one more time by watching the video all over again.
(video courtesy of Broadcast Pioneers VP Brad Seecof and Metramedia Broadcasting & Studios)

AUDIO:
On next piece of audio comes from our Gene Dillard collection which includes hundreds of audio reports and also hundreds of TV pieces. This report aired on WFIL Radio at the end of October during 1978. It's about men and women going through basic training together at Fort Dix, near Trenton. Dix was one of three sites that trained both men and women together.
Listen in Real Audio!
Listen in Windows Media Format!
Our last clip comes from 1971. The date is Sunday evening, October 3, 1971. Here's the complete WCAU Radio 11 pm newscast. The newscaster is Anne Crosman. Anne holds a master's degree in journalism from American University.
Two years after Anne's time here in Philadelphia, she went to CBS Radio to deliver hourly CBS newscasts. She was their first woman anchor and was still in her late twenties. Later, she went to NBC News. Here's the complete 10 pm WCAU Radio newscasts presented in its entirety.
Last month, we ran her complete 10 pm newscast on WCAU Radio in our newsletter. This month, we push the clock an hour later. It's the same day, but it's an hour later. Here's her 11 pm newscast.
Listen in Real Audio!
Listen in Windows Media Format!
Remember, History is ONLY What Gets Saved!
(If there were no portraits of George Washington, how would we know what he looked like?)
A LITTLE BIT OF BROADCAST HISTORY!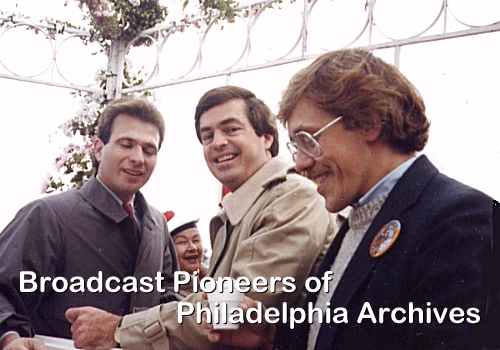 (Left to right) Gary Papa, Scott Palmer and Don Polec
(Note Mrs. Noah in between Papa and Palmer)
Thanksgiving Parade
Thursday, November 26, 1987
(Photo originally donated by member Cathy Gandolfo)
IN TOUCH WITH THE INDUSTRY:
101.1 More FM, WBEB-FM's ninth annual Christmas Choir Competition recently awarded two area schools a tremendous grand prize; a $5,000 cash prize for their school's music department, an invitation to sing with the Philly Pops at A Philly Pops Christmas performance held last month, plus the opportunity to showcase their winning song on 101.1 More FM for the holidays. The winner of this year's competition in the 9-12 grade division is the Neshaminy High School Select Choir. The winner in the K-8 grade division is the Bridle Path Elementary School Choir.
Entercom Philadelphia's Today's 96.5 (WTDY-FM), 92.5 (WXTU-FM), 98.1 (WOGL-FM), 1210 (WPHT-AM), 94.1 Sportsradio (WIP-FM) and 1060 Newsradio (KYW-AM) tapped into the holiday season with their first annual Holiday Hops Craft Beer Festival. The festive event which took place in mid-December included a photo booth with mistletoe, free parking and live music along with unlimited samplings from area breweries.
Philadelphia Union announced a continuing broadcast partnership with the club's founding broadcast partner, 6abc, as well as a new partnership with PHL17. Under the agreement, PHL17 will serve as the new flagship television home for Philadelphia matches, broadcasting the majority of the Union's contests. A select number of Union matches will also be televised on 6abc.
Production for all local Philadelphia Union telecasts in 2018 will be handled by 6abc. As a result of the new broadcast agreement, Union telecasts will now be available to 32% more residents in the Greater Philadelphia region.

"As a founding partner with the Union, we're delighted to play a part in the evolution of its media expansion within the Philadelphia television market," said Broadcast Pioneers member Bernie Prazenica, 6abc President & General Manager. "We think this is great news for the passionate Union fan base, and we're excited to see the club rise to new heights in 2018!"

"PHL17 has a long history of bringing the best in local sports to the homes of the Delaware Valley and we are thrilled to be the flagship partner of the Philadelphia Union beginning in March," said Broadcast Pioneers member Vince Giannini, Senior Vice-President and General Manager, PHL17.
WE REMEMBER:
Chris Harwood, 90, passed away at the end of November of last year. His career spanned 68 years. He started working at the age of 14. He was a radio announcer for Armed Forces Radio Network during WWII and after that, he worked for WEEZ, WHAT Radio and KYW Radio. His radio show was aired over the Mutual Broadcasting System. Many of you may recognize the name as he was a writer for the Honeymooners and also Arthur Godfrey. He worked as a camera operator for WFIL-TV for a dozen years and then went over to Channel 29 as co-host of the station's stock market show.
We heard from member Dave Skalish, the Market Engineering Manager for Entercom (formerly CBS Radio). Dave tells us that Harry Bickhart, a long-time engineer and production wizard at WIP Radio has passed away during mid-December 2017. Skalish tells us that he believes Harry, who had been with the station for decades, was 88 years old. We asked several of our members who worked at WIP to say a few words about Harry.
Dean Tyler

I met Harry Bickhart when I joined WIP in 1969. His skillful assistance in contemporizing the station, was in no small part, responsible for its enormous success. His engineering and production skills were second to none. Harry had a kind and generous spirit.

Elaine Soncini

Harry loved radio and he loved the people in radio - his colleagues. He became family to all, including my late husband, Ken Garland, and me. No matter what the event, Harry was there to make everything right with his music, his talents, his production skills, his smile, his personality and his willingness to do whatever was necessary.

Tom Lamaine

Harry Bickart was one of the smoothest, classiest, guys I ever knew. A production icon at WIP, or anywhere else for that matter. No matter how much hit the fan, Harry always came through smiling and very even tempered. He was that cool.

Tom Moran

In my 17 years at Metromedia Radio, hardly a day passed when Harry and I didn't solve the world's problems. Harry Bickhart was also a musician who was well known as an orchestra leader in the tri-state area. He was a class act. We'll miss you 'Hesh.'

THIS AND THAT! Little Bits of Information....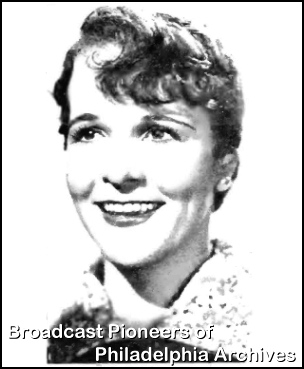 Halloween Martin
KYW Radio, Chicago
1934
KYW Radio had a very successful morning show for many years called "The Musical Clock." It was very popular here in Philadelphia but the roots of the show go back to the station's time in Chicago. The station put the feature on the air with musical phonograph records and time checks on January 7, 1929. The most popular host was named Halloween Martin (yes, you read that correctly). When KYW came to Philly, Martin and her sponsor, Marshall Fields, moved the program to WBBM on December 17, 1934. Later, in 1939, the Chicago broadcast was sponsored by Sears and Roebuck. KYW did their own version of the show here in the City of Brotherly Love and it was very popular for decades.
The Swanee Singers, heard regularly over WCAU Radio in 1942, met the Royal Harmony Singers (they broadcast over KYW Radio) in a singing sing-off on October 14, 1942 st the Mother Bethel AMC Church here in Philly for radio championship of the area. You may know the Swanee Singers as the Dixie Hummingbirds. The group also performed under the name the Jericho Quintet at the Cafe Society (NYC) where they were often backed by Lester Young and his musicians. The Royal Harmony Singers were often called "The Florida Boys." They relocated to Philly from Jacksonville. Admission, by the way, was sixty-five cents.
Before going to the network, WFIL-TV decided to run Bandstand in color. Dick Clark had just taken over the telecast and it aired from 2:30 pm until 5 pm. The date of the first Bandstand colorcast was Monday, July 23, 1956. Most sets at that time in Philadelphia were not color receivers.
Reports tell us that member Hy Lit was so good at sports that upon graduating from high school, he received a $5,000 signing bonus from the Cincinnati Reds to play for one of their farm teams. Hy quickly found that he had more trouble hitting a curve ball in professional ball than he did in high school and decided to pursue other ventures.
Some news from the spring of 1942 included WIBG Radio getting two new announcers. One was Albert McDowell (no relationship to Al McDowell, the Channel 6 news anchor). Albert had never worked in broadcasting before. The other announcer to WIBG was George Brownbeck. He did have radio experience. Lew Rogers had left the announcing staff to take a gig in defense work (remember, this was during WWII) in Canada. Some other news from WIBBAGE at that time was that Chief Announcer Roy Neal (later of NBC-TV fame) became a father.
At the same time, member Neil Harvey had joined the announcing staff of W53PH (WFIL-FM). He took the position formerly held by George Rubessa who transferred over to WFIL (AM). Neil Harvey had previously worked at WPEN and WCAU Radio.
It was a busy spring in 1942. Long-time DJ Joe McCauley left WHAT Radio to join the staff of W42PH, which was to become WIP-FM. Shortly thereafter, Joe transferred over to the AM station of WIP Radio, owned at that time by the Gimbel Department Stores.
THANKS FOR THE MEMORIES:
President Hoover in front of WCAU Mikes!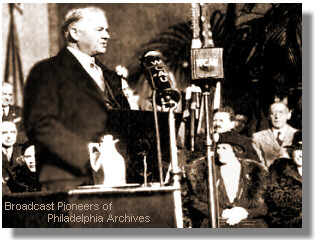 President Herbert Hoover
We believe that this photo was taken on May 30, 1931. Erroneously, many sources have stated that this photo was taken in Philadelphia at the dedication of the new WCAU Radio Building at 1622 Chestnut Street in Center City . While President Hoover did participate in the WCAU dedication ceremonies, the broadcast originated from the White House in Washington, and not Philadelphia. The WCAU dedication event took place at 10:30 pm and was carried live over the Columbia Broadcasting System, CBS Radio. It featured many leading entertainers of the era. If the picture showed Hoover delivering the remarks for WCAU's dedication, then the photo was taken at the White House and not in Philadelphia. White House mikes would not have had a WCAU mike flag on them. Therefore, it was not the dedication ceremonies. Also, the above picture was taken in daylight and the May 30, 1931 broadcast took place at 10:45 am.

President Hoover said on Friday evening, February 10, 1933 during the WCAU dedication broadcast:
I am glad to participate in these dedication exercises. Radio broadcasting has spread its influence to every phase of mankind's endeavors and achievements. Its unique value is the possibility it provides of bringing people and nations into immediate and intimate association, permitting universal dissemination of ideas, facts, and opinions. I had the privilege of sharing in the development of radio while it was still practically in embryo, when I was Secretary of Commerce.

The radio art was developed with phenomenal rapidity. Most of this development took place in the last 10 years. It illustrates the possibilities of modern life wherein science, invention, technology, and industry quickly cooperate to put at the service of mankind the full values of scientific discovery. Already radio has had a profound effect upon all our institutions; social, political, and industrial, and upon the very color of our thoughts.

This important position in our daily life has been well earned, and those who have ministered so admirably to its development deserve our praise and thanks. I heartily congratulate the management of the new WCAU Building upon their enterprise in erecting this unique temple to this modern art, especially constructed for radio broadcasting purposes.
Charlie Higgins, a long-time tech at WCAU told us: "This photo was taken at Valley Forge while Hoover was giving a speech.... I do know that the condenser mic failed during his speech necessitating Ray Stahl (a WCAU technician) having to crawl under the bandstand to effect the repair."

President Hoover visited Valley Forge on May 30, 1931. Here's part of what he said that day:
We are upon the eve of the celebration of the 200th anniversary of the birth of George Washington. It is, therefore, appropriate that our observance of Memorial Day should this year be at this place, so intimately associated with the moral grandeur of the Father of our Country.

This national shrine needs no description; the events enacted here require no recounting to the American people. The very name, Valley Forge, swells within us a pride of nationality. These peaceful fields hold a glory peculiarly their own. The sufferings of Washington's army in that dreadful winter of privation have made this place famous among all men.

It was not the glory of battle for which these fields are remembered. No great battle was fought here. It was not the pomp of victory, for no martial triumph was won here. It was not the scene where peace was signed by which independence of a great nation was won. It was not the tombs of courageous men who, facing the enemy, gave the supreme sacrifice for their country to which we bow in reverence. A thousand other fields mark the courage, the glory, the valor, the skill, the martial triumph of our race. Yet the instinct and the judgment of our people after the abrasion of the years has appraised this place as a foremost shrine in the War of Independence and in our Nation. It is a shrine to the things of the spirit and of the soul.

It was the transcendent fortitude and steadfastness of these men who in adversity and in suffering through the darkest hour of our history held faithful to an ideal. Here men endured that a nation might live.

George Washington and his men at any moment could have accepted the counsels of an easy path to an easy end of their privations. They could have surrendered their ideals to the widespread spirit of despair and discouragement. They could have abandoned their claims to freedom. They could have deserted their hopes and forsaken their faith. Instead, they chose the harder way of steadfast fortitude and for many of death.
For those interested in reading the entire speech, you can do so right here on our website. It can be found here!
Soul for Sale!
(The Story of Ed Eisen, Part 3)
Broadcast Pioneers member Ed Eisen's career in communications spans 52 years. He worked in radio, television, newspapers and pubic relations. He was a top 40 DJ, a TV producer, booth announcer, career counselor and read books for the blind. Ed wrote a book called "Soul for Sale". It's his life story. You can read his bio here! We thought you would enjoy hearing about how he first got started in the business. We present it in three parts. This is the last installment. You can also see more about Ed on his new website, https://www.edeisenshow.com. He wrote:
When I returned to Philadelphia, Marion and I were married. I met her 12 months earlier at a rooftop dance at the Jewish Y at Broad and Pine Sts. I was 22, she was 17, in her senior year at Philadelphia's Olney High School. Two redheads whose personalities contrasted like Mars and Venus. Marion was outgoing, vivacious, a good listener. And I, a born cynic, always seeking an audience, found one in this comely strawberry blonde. Yet our timing for tying the knot was less than perfect. Not only was I unemployed in August of 1959, but her dad had just undergone a heart attack. Marion's mom insisted that a downsized wedding proceed as planned. Our honeymoon consisted of two days in Atlantic City.

After that, we moved into my mother's apartment in West Philadelphia. Marion went to work for her aunt as a fund raiser. I kept looking for work. It was November 1960 and I had for long harbored the notion of working in a place where it was warm year round. One night I came home and asked Marion if she would consider a move to either California or Florida. She chose Florida. For Marion, who had never traveled beyond the shore, the move spelled adventure. For me, the move represented a fresh start in new surroundings. There was no pre-planning, no job prospects. My new bride and I packed a U-Haul and drove off to Miami in my 1956 Ford Fairlane. We had never visited there before. My hope was that a change in venue would deliver a more promising future. We rented an apartment and on Thanksgiving day -- instead of celebrating with our family, now 1250 miles away, we broke bread with new-found friends on the lawn outside our apartment. That night this newly-wed couple from New York, borrowed our silverware, blankets, and pillows. The next morning they were gone, their apartment empty. Gone, too, were our wedding presents.

By Monday, our fortunes brightened. Marion was hired as a clerk at a clothing maker. For me, the job hunt continued. Marion was encouraging. She believed good things were around the corner. One day I found an ad in Broadcasting Magazine for an opening at a television station in West Palm Beach. The manager at WEAT-TV hired me on the first interview. Mornings I moved into a tiny sound booth from which I introduced the news anchors. Afternoons I spun records for the station's radio operation.

Things went well for six months. Then new owners moved in and suggested I might be happier elsewhere. Their complaint: diarrhea of the mouth. I suggested it could be fixed. They insisted my problem was incurable. There was a plus side to all this, I reasoned. I was knocking on doors without having to trudge through three feet of snow and Jamestown's cold winters. Marion had faith in me, believed I would find the right job and encouraged me to keep trying.

Every once in a while I would remember Mrs. Dernakowski and her prophecy. It would provide hope that better days were around the bend.

When I wasn't job hunting, Marion and I would spend a hot summer afternoon in a cool movie theater in West Palm Beach. The price was only 50 cents, a worthy escape from what in reality was appearing like a bleak future.

Among the venues at which I left an application was the Florida State Employment Service. "We don't have a reporter-broadcaster category," a counselor informed me. My resume, I learned, was ultimately filed in a category classified as clerk-typist.

Months passed. Our wedding safety net was becoming depleted. Gwen, our first child, was born at Good Samaritan Hospital in West Palm Beach. At this point I began to entertain the notion that perhaps our Florida junket was ill advised, poorly planned.

A week later I took a phone call from the manager of a radio station in Babylon, N.Y. He invited me to fly out for a two-week tryout as a newscaster. I booked a flight. On the day I was scheduled to leave a car pulled into our driveway in Lake Worth. A tall, 20-something guy stepped out. He rang our doorbell and identified himself as Tom Alston. Tom was bureau chief at a newspaper in Ft. Lauderdale. I had applied for a job earlier at the paper's Pompano Beach satellite office. Yet nothing had come of it. Tom was moving to an editor's slot at The Ft. Lauderdale News. The paper was seeking a replacement in its Delray Beach bureau. Apparently, my resume turned up during a search at an unlikely venue: the Florida State Employment Service in West Palm Beach! "Would I be interested?" Alston asked.

I drove to Ft. Lauderdale for the interview that changed my life. There I met the man who was to become my boss and mentor for the next six years, Barc Bowman. I canceled my flight to Babylon.
A Broadcast Pioneer and her date with Steve McQueen!
Ruth Leon Weiman is a member of Broadcast Pioneers. Her father was Max Leon, owner of WDAS AM & FM in the 50s, 60s and 70s. Max was also a Vice-President of this organization in the seventies. She's written a new book which is her memoir entitled, "In With a Crash and Out With a Roar." In one of the chapters, she talks about her date with future movie actor Steve McQueen. This is just one of many interesting stories. Here's what she wrote:
Pursuant to the theater majors at Temple (University) spending as much time together as we could, one of our number, Johnny Coleman, invited us to his home for a party. He already had an apartment in New York in anticipation of moving there after graduation, which he shared with a fellow aspiring actor, named Steve McQueen.

When I walked into the party, I saw my friend Karlie sitting at the bar with a handsome young, blonde man who had an interesting "Hollywood" hair cut. I asked her who he was, and she said, "Steve McQueen, and if you want to meet him, I will introduce you because I am not interested in him." When he turned around, I saw that he had something special about him. This was not an ordinary, "I Gotta Get a Job" aspiring actor.

We found so much to talk about. We left the room and went up to the second floor to find a quiet place to get to know one another. He told me about his unfortunate background; a sadistic step-father who tossed him down a flight of stairs and then, at the age of 14, put him in a reform school.

Steve, in order to escape, falsified his age (he was only 16 years old at the time) to join the Marines. After his stint in the Marines was over, they paid his tuition at the Neighborhood Players School for Actors, and that's where he was at that moment. Steve's personality was quite engaging even though his tale was heart-rending. He managed to give one the impression that he did not indulge in self-pity.

I had the feeling that here was a young man with an inner strength and belief in himself that would take him wherever he wanted to go.

Steve obviously found something appealing in me as well, as neither of us wanted the evening to end. He invited me to come to New York, and of course, I agreed.

In New York, we met in the late morning and after a walk on the West Side, Steve asked if I would go with him to see a movie he wanted to see, called Battleground-something. We sat in the balcony because he wanted to smoke, and he watched the movie and I watched him. We were both happy!

Steve asked when I could come back to New York because, in his impecunious state, he couldn't afford trips to Philadelphia. I said I would and intended to, but got involved in preparation for graduation from Temple University. I also couldn't figure out a way to explain Steve's background to two strait-laced parents whom I had already made nervous with my unorthodox approach to life. I felt it was one additional battle I hadn't the energy to wage.

Well, everyone knows about Steve's career. A few years later, my sister Sonia and I went to see 'The Thomas Crown Affair," where he looked incredibly handsome and sexy for 1 hour and 42 minutes. The lights went up at the end of the film. Sonia turned to me and said, "ARE YOU CRAZY? YOU GAVE THIS GUY UP?" I reminded her that when we met, he hadn't yet become STEVE McQUEEN!! But my explanation obviously fell on deaf ears.

In hindsight, I don't think I would have been happy riding on the back of a motorcycle for umpteen years and/or riding on that same bike to Tijuana for my wedding ceremony. Somehow I can't picture my white wedding veil trailing behind me with a piece of my wedding cake on my lap. Some things just don't fit into the picture of what we imagine our lives to be. C'est la vie.
A LITTLE BIT OF BROADCAST HISTORY!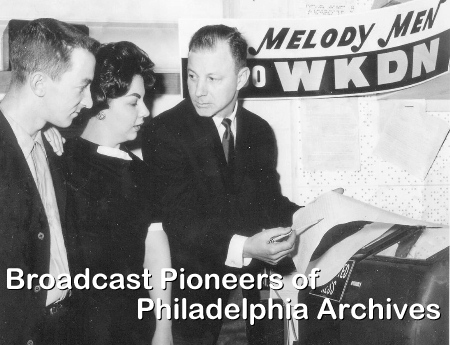 Jim Donahue (center)
WKDN, Camden newsroom
circa 1958
OUR HATS OFF TO YOU FOR GIVING:
We would like to thank the following for their contributions donated at our December luncheon. They include: Eric and Marlene Address, Damon Castle, Mike Bove, Dave Custis, Ed Eisen, Johnny B. Hall, Marlyn Kaufmann, Mel Klawansky, Bob Kravitz, Carol Leebron, Dorie Lenz, Robin Mackintosh, Rich Troyan, Art and Janice Wilson and Gerry Wilkinson.
We would like to thank the following members for their generous donations from our wrap around (the membership directory) campaign. This month, thanks go to Vince Leonard, David Murphy, Bob Manning, Mike Quinn, Brother Gerry Molyneaux, Ramona Alpern and Joe Tarsia. We would also like to thank member Richard Marks for his contribution in the memory of Rod Carson.
We are a federally recognized, state chartered charity with a 501(c)(3) status. Contact us at (856) 365-5600 or e-mail
pioneers@broadcastpioneers.com
for more details. Your gift to Broadcast Pioneers will help us and may lower your federal income tax. That's win-win, isn't it?
Special Thanks (in alphabetical order) for the gift of Appreciated Stock: (a federal tax advantage for the giver)
Member Marc Howard - $3,600 (put into our general fund to be used where needed)
Member Sylvia Kauders - $5,159.45 (used for the scholarships listed below)
Special Thanks (in alphabetical order) for contribution of $1,000 or more to our DAP, Digital Archival Project:
Member Jerry Del Colliano - $1,500
Member Johnny B. Hall and wife Ginny - $3,000
The Harry Hurley - Hurley in the Morning Charity (Harry is a member) - $1,000
The Shunfenthal Family (in memory of Sherri Shunfenthal's father, Les Waas) - $2,000
Member Marlin Taylor - $1,000
A member who prefers not to be identified publicly - $1,000
Special Thanks (in alphabetical order) for contribution of $1,000 or more into our General Fund to be used where needed:
Member Art Moore - $1,000
Member Brad Seecof and Metramedia Broadcasting & Studios - $1,000
Special Thanks (in alphabetical order) for April 2018 Scholarships:
Members Robin and Ira Adelman - 1 scholarship in memory of member Leon Love
Member Johnny B. Hall and his wife, Ginny - 7 scholarships
The Harry Hurley - Hurley in the Morning Charity - 1 scholarship (for a Stockton University student)
Member Sylvia Kauders - 1 scholarship (from a grant for 5 yearly scholarships running until 2019)
Member Kal Rudman - 5 scholarships (for Temple University students)
The Shunfenthal Family (in memory of Sherri Shunfenthal's father, Les Waas) - 1 scholarship
Member Marlin Taylor - 1 scholarship
Member Allan Tripp - 1 scholarship in honor of his 100th birthday
Special Thanks (in alphabetical order) for a contribution of $500 or more to our DAP, Digital Archival Project:
Member Bill Webber, Jr. - $500
The Philadelphia Eagles (in honor of Ray Didinger being inducted into our Hall of Fame) - $500
Armitage Shanks (not their real name) - $500
Members Robin and Ira Adelman - $500
Bequests in their Will:
Member Sylvia Kauders passed away earlier this year. In her will, she bequest to the Broadcast Pioneers of Philadelphia, the amount of $5,000. This funding is to be used to underwrite one scholarship per year until gone. These scholarships will start in the year 2020 and continue until 2024. From a previous gift, Sylvia has underwritten one scholarship a year starting in 2015 and continuing until 2019.

Member W. Carter Merbreier passed away a couple of months ago. In his will, he bequest to the Broadcast Pioneers of Philadelphia, the amount of $1,000. This funding is to be used to underwrite one scholarship which will be awarded in April of 2017.
Underwrite a complete scholarship and we'll give you credit in the electronic newsletter until the scholarship is awarded in April of 2018. Give us a donation of appreciated stock of $2,000 or more) and we'll list you in our "Thank You" column for two years. Give us a donation of $1,000 or more and we'll list you in our "Thank You" column for a year. Give us a donation of $500 or more and we'll list you in our "Thank You" column for six months. You can select how we use the money: for our archival project, for scholarships or for our general fund to be used as needed.
More Thanks:
A growing portion of the revenues that fund the different activities of the Broadcast Pioneers comes from donations. This includes our archival project and our scholarship program. Now we are making it even more beneficial for our donors. Broadcast Pioneers is now able to accept gifts of appreciated stock, which provides a significant tax benefit to you. By giving appreciated stock (stock which is worth more now than what it cost when it was purchased), you can get a charitable contribution tax deduction based on the current market value of your stock. At the same time, you avoid the capital gains tax that would arise if you simply sell the stock. So if you'd like to support our educational mission or our archival project and save money on taxes too, please consider making a gift of appreciated stock. We are a federally recognized, state chartered charity with a 501(c)(3) status. Contact us at (856) 365-5600 or e-mail pioneers@broadcastpioneers.com for more details.
Many of us are over 70 and a half years old. If you are, you can donate directly to Broadcast Pioneers from your IRA Account. If you take a distribution and then donate to us, you would have to pay federal tax on the distribution. By donating directly to us, you pay no tax and we get the full amount. Remember, this donation must go directly to us in order for you to avoid paying income tax. This direct donation may also prevent you from going into a higher tax bracket. That's always good. Speak with your tax advisor about this.
Don't be left out. You too can make a pledge. It's never too late. You can earmark it for scholarships, our Digital Archival Project or our general fund. Thanks so much for your support. If you forgot to make an extra contribution (cash or memorabilia) and would like to do so now, you can do so. We would be thrilled to hear from you at: PO Box 2886, Bala Cynwyd, PA 19004, call us at (856) 365-5600 or e-mail us at: pioneers@broadcastpioneers.com
A FINAL THOUGHT....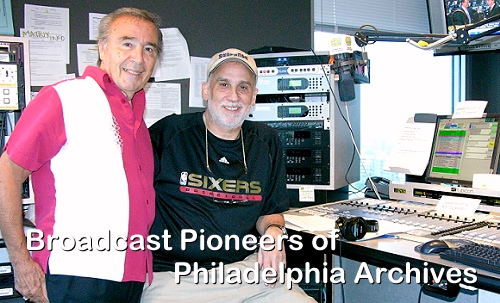 (Left to right) Member Pat Delsi and Harvey Holiday
at the studios of WOGL
July 29, 2008
(photo donated by Broadcast Pioneers member Dave Shayer)
Broadcast Pioneers' Hall of Famer Harvey Holiday talked about " The Power of Radio to affect people's lives." He said:
I don't care what kind of music you play. I don't care what your ratings are. Every time you turn that microphone on, you can take somebody who's having a bad day, and make it better.
Harvey Holiday
during his acceptance speech
while being inducted into our Hall of Fame
The Hilton City Avenue
November 2015
You can watch Harvey Holiday's entire address on our You Tube Channel right here!
(video courtesy of Broadcast Pioneers VP Brad Seecof and Metramedia Broadcasting & Studios)

Please contact us by e-mail at pioneers@broadcastpioneers.com or by mail to: Broadcast Pioneers of Philadelphia, PO Box 2886, Bala Cynwyd, PA 19004. Your stories are important, to you, to us, and your colleagues. Contact us today and we'll include your story in the next newsletter!

© 2018, Broadcast Pioneers of Philadelphia
All Rights Reserved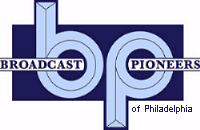 The e-mail address of the Broadcast Pioneers of Philadelphia is pioneers@broadcastpioneers.com
For luncheon reservations call (856) 365-5600 or e-mail us at: rsvp@broadcastpioneers.com