April luncheon
Bala Golf Club
April 16, 2008

Reception at 12 noon
Lunch at 12:30 pm
Ratecard: $25 per person

April 2008
Issue 8
2007-2008

Reserve today by calling (856) 365-5600 or e-mailing us at: rsvp@broadcastpioneers.com
Spring has sprung, as they used to say, and it's in the air, so be ready for another big bash with the Broadcast Pioneers on April 16th, Wednesday at our usual location, the Bala Golf Club.
Plus, Bruce Castor, Commissioner for Montgomery County will present a citation to NBC 10 for their many years of service to the area. This was postponed from last month's luncheon.
Ten scholarships of $1000 each will be awarded to area college students at the April 16th meeting. FOUR of these scholarships have been underwritten by member Kal Rudman (double the amount he pledged) and one by member Esther Kurtz in memory of her late husband, David Kurtz, who founded B101.
This is another star filled big luncheon and it starts at 12 noon, with cash bar, crudité table, and greeting old and new friends, 12:30 pm lunch will be served. The tab is $25, and you must make reservations by calling (856) 365-5600, or email us at rsvp@broadcastpioneers.com.
The March meeting found a big crowd there for all of the favorites of Channel 10 throughout their 60 years of history with too many names from the station's illustrious history to begin to mention here. Go to the website www.broadcastpioneers.com and you'll see all of the people that were there plus an audio recording of all the proceedings.

Incidentally, new work is being done by President Gerry Wilkinson on the oral history of broadcasting in Philadelphia, and the newest one added is an interview with Broadcast Pioneers member Jimmy Hirschfeld who produced Captain Kangaroo, after having a memorable career at Channel 10. Gerry also recently finished a clean-up of a tape made by Marguerite Farley in 1991 with John Roberts. John had a fabulous career that you can hear about by going to our website. He tells how he almost went into politics for the wrong party, and almost went to the network to replace John Daly. Great stuff you'll want to hear.

Members of the Hall of Fame/Person of the Year committee should be advised that there will be three meetings this year. The first two will be at Bala just before the April and May luncheons. June meeting will be on Friday, June 20th at B101. The April committee meeting will start at 10:45 am.

Bob Kravitz has finally gotten together the two things that he most loves. His new promo on NBC 10 allows him to sing about the golden haze on Philadelphia, while flying as Chopper Bobby. He invites us to throw tomatoes, but we couldn't do that, could we???

We've discovered that the Ed Elias at Channel 17 is not the Broadcast Pioneers member of Channel 6, but his son and heir, Ed Elias, who has been there for some years.

Member Bud Galow thanks everyone for the prayers that were said for his wife Mary, who had spent 79 days in ICU at Abington, and is off the ventilator. Bud and Mary are ready for the work that looms getting full recovery.

Many of you may remember Ivan Scott who was with WFIL and WIP thirty years ago or so. Bill McCloskey informs that he has died in Washington where he spent many years as Pentagon Correspondent for WTOP Newsradio. Ivan had a distinguished career as a correspondent for ABC, and in various government departments in Public Relations.

We have been busy getting all the past newsletters online. They will be there for easy reference or for browsing some of the old names prominent in broadcasting in our town.
"The greatest lies are told: Before the marriage; after the hunt; and during the election." Count Bismarck
Dick Standish has recently written and will provide to the Pioneers archive video of WCAU-TV's Harvey Clark, Pete Kane, Bill Baldini and Larry Kane covering the second MOVE shootout. Video of KYW newsradio's Anniversary featuring bites of Frank Rizzo, Sr., Andrea Mitchell, Bill Green and Nelson Cohen about newsradio of the 1970's. Also City Council fights, with the Street brothers in combat, as covered by Eyewitness News. Also Malcolm Poindexter covers a story (excerpt). Malcolm, incidentally, is at Penn Rehab, 36th and Chestnut, and Dick is not sure what the specific medical issues are.

Member Gene London has a new fan page for him at: http://tv.groups.yahoo.com/group/gene_londons_cartoon_corners/.
There they will relive old memories of characters on the show, visit the general store, and there's a place for people to input their recollections.

A recent talk with Eileen Kalas developed all kinds of news about her renowned sportscast husband, member Harry Kalas. Harry recently mc'd the Philadelphia Sports Writers Association dinner, and during his remarks a gentleman in the audience rose, interrupting him, and began speaking. Harry checked his notes, thinking he'd missed something, but at the end was presented with a plaque celebrating his status as a Living Legend Sports Figure. Harry was also saluted with a Maxwell Club award at their 76th Annual Awards Dinner. Harry has received awards for both baseball and football, in the latter case for his work doing NFL films voice-overs, and play- by-play on Notre Dame Football on Westwood One. Harry has also been installed in the National Sportscasters - Sportswriters Hall of Fame in Salisbury, NC. Eileen filled us in on Harry's activities with veterans, and the poetry he writes about them, and her activities, about which more later.

Past Pioneers President and former WFIL executive Marian Lockett-Egan emails from Florida that she enjoys her warm winters, but will be back soon, perhaps in time for the April meeting. We look forward to seeing her soon.

Bill Wright, Sr. and Sam Lit, son of Hy, have teamed to do a Shindig, Auction and Raffle at the St. Davids Country Club on April 14. Bill says "I'm back on the Hop Scene."

Rather distressing word from member Dick Mendenhall, former editorial director at WFIL, who has been diagnosed with bladder cancer. Radiation and Chemo will follow in the coming weeks. It was discovered during surgery for a urological problem on Valentine's Day. Dick says the female assistant removed the catheter a few days later and assured him "This won't hurt a bit." He swears his fingerprints are still on the ceiling.
"The difference between the almost right word, and the right word, is the difference
between the lightening bug, and the lightening." Mark Twain
Greet new members: Ray Fiedler, an Assistant Director for NBC 10 has joined. He has been with Channel 10 since 1958. His 50th Anniversary will be celebrated later this year. Stephanie Stahl started in 1978 at WRC-TV, and after stints at WPEC-TV, and WCAU-TV, she has been with CBS3, KYW-TV since 1992, currently as Health Reporter. Philip Salas has been in the business since 1976, and from 1997 to 2007 he was Sales Manager for CBS3, KYW-TV. Gary Blacksmith of Carlisle, PA who began in the business in in 1962. Calvin Iszard of Trenton, NJ currently producer/host of "Capital Talk with Calvin Iszard" at WBCB 1490 AM, Levittown.

To be in the newsletter, please send items to Paul Norton, 205 Ocean View Blvd., Lewes DE 19958. Phone (302) 645-8910, or e-mail nanort@comcast.net.

© 2008, Broadcast Pioneers of Philadelphia
All Rights Reserved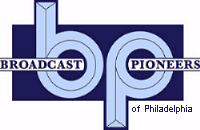 The e-mail address of the Broadcast Pioneers of Philadelphia is pioneers@broadcastpioneers.com
For luncheon reservations call (856) 365-5600 or e-mail us at: rsvp@broadcastpioneers.com