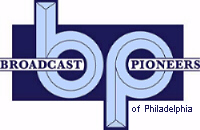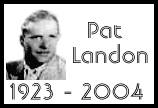 George L. Landon was better known to residents of the Delaware Valley as Pat. Pat Landon passed away of complications from emphysema on Christmas Day of 2004 at the Eastern Shore Nursing and Rehabilitation Center in Cape May, NJ.

Born in Lakewood, Ohio, Pat began broadcasting while a student at Cornell University in Ithaca, NY. Landon holds a Bachelor's degree in music from the school.

In the early fifties, he came to WCAU Radio (owned by the Evening Bulletin) playing big band music overnight. Following Landon in morning drive was Broadcast Pioneers member Ed Harvey (a member of our Board of Directors.)

From there, Pat Landon went to WPTZ, Channel 3 as a booth announcer and show host. He did the local news on the Today Show. When the ownership changed from Westinghouse to NBC (using the call letters WRCV-TV), Pat Landon stayed with the station. He also did other shifts and delivered the 2:25 pm daily newscast in 1956, right after Florence Hanford's cooking program.

He left Philadelphia to become program director of a Rochester, NY radio station. Former Broadcast Pioneers' Person of the Year, Bob Bradley took his place at Channel 3.

Returning a year later to again work for the Evening Bulletin's radio station, now WPBS (the new FM station started after the newspaper sold theWCAU outlets to CBS). WPBS is now Power 99.

In 1966, Pat Landon left the industry and joined Recorded Publications Laboratories in Camden as Regional Sales Manager. He stayed 22 years until he retired in 1988.

Pat Landon served in Italy during the Second World War, with the rank of first lieutenant as a B-17 pilot with the Army Air Corps.
From the official archives of the Broadcast Pioneers of Philadelphia
Text compiled and researched by Broadcast Pioneers member Gerry Wilkinson
All Rights Reserved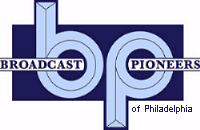 The e-mail address of the Broadcast Pioneers of Philadelphia is pioneers@broadcastpioneers.com