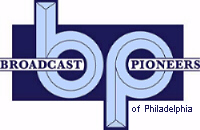 The following was written by person or persons unknown. We found a photocopy of a typewritten script in our files. The folder was dated August 1955. Whether it was ever published, we do not know.

Within the Channel 3 organization, there's an attractive, personable, blonde young woman whom the televiewer never sees but whose efforts are heard many times a day. The pretty button of femininity is Virginia Peelor and the job she handles is that of music coordinator.

As the guardian of more than 2,000 records, Ginny is responsible for the themes, background music and sound effects that are heard on all show emanating from Channel 3.

Working closely with the directors, Ginny's though knowledge of just what the Channel 3 library contains, as well as her talent for pinpointing the specific type of music needed for any particular situation, is put to the test day after day. Her morning may start with an urgent request for a voice for "Dewdrop," the talking light in the enchanted forest segment of the Let Scott Do It show. Next a clap of thunder may be wanted. Following this, a director may stop at the office, toss a Telerama script on Ginny's desk and ask for suggestion for background music to cover some live dialog or film clip.

When Channel 3 was originating some network soap operas, Ginny was the girl who assisted in the selection of "mood" music. Pete Boyle's Funhouse may need anything from the sound of a stick rattling against a picket fence to "skipping" melodies to denote a light hearted episode in the life of Our Gang. It's Ginny who digs it out.

In addition to her music duties, Ginny also directs the Thoughts for Today and Thoughts for Tomorrow films.

Almost she joined Channel 3 almost six years ago, as a secretary in the time sales department, Ginny's promotion to the music coordinator slot was a natural. The Pittsburgh born music specialist has been a dancer since the tender age of seven. After two years at Carnegie Tech, she entered show business, playing the Orpheum circuit, coast to coast, in the "12 O'clock Revue." During this time, she shared the boards four times per day with such show business names as Gene Kelly, Dick Powell, Sophie Tucker, Belle Baker and Al Jolson. She performed in such top spots as New York's Wintergarden and Palace, and the West Coast Oriental Theater and Golden Gate.

Married to a non-professional and the mother of a sixteen year old daughter, Ginny has hung up her dancing shoes to take over a role just as exciting and demanding.

From the official archives of the Broadcast Pioneers of Philadelphia
© 2003, All Rights Reserved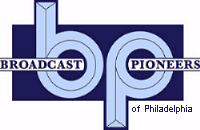 The e-mail address of the Broadcast Pioneers of Philadelphia is pioneers@broadcastpioneers.com