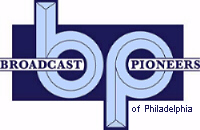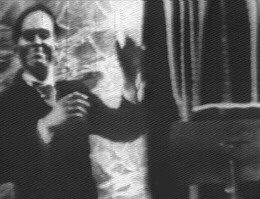 John Zacherle as Roland
WCAU-TV
Friday, March 7, 1958

Actually, this isn't a photograph at all. It's a video still from an amateur kinescope of John Zacherle's "Shock Theater" on Channel 10, WCAU-TV in Philadelphia. Here in Philly, he played a character called "Roland." Though "Shock Theater" ran in Philadelphia for only a year, Broadcast Pioneers member John Zacherle made quite an impression on the Delaware Valley.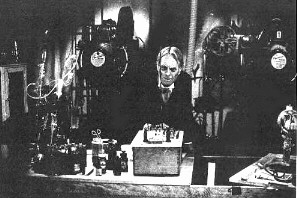 Towards the last half of the season, he started jumping in during the movie and actually incorporating Roland directly into the movie. The scene shown above was one of those cut-ins. On Friday, March 7, 1958, WCAU-TV presented the classic "Dracula" movie starring Bela Lugosi. There's one scene where people are attending the theater and the local break-in shot was of Roland conducting the orchestra. That's what the above still is at about.
That Friday evening, an amateur photographer set up a crude 16 mm kinescope system and shot "Shock Theater" off the TV. It is the only known recording of Zacherle on "Shock Theater" on Channel 10. We were able to date the program because we have a complete listing of all the movies shown on Shock Theater. The movie Dracula was only shown twice and only once did the movie "Four Sided Triangle" follow it on the next night. Since John talked about the next night's feature and mentioned it by name, it made it quite easy to date.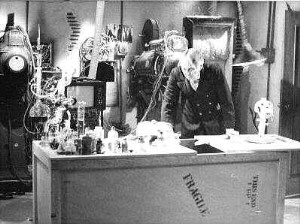 We have in our archives, courtesy of "The Cool Ghoul" himself, John Zachele a copy of that kinescope. Here's a short condensation from that kinescope. Note how Zach incorporates the story and the commercial with the broom and the washing of the wall.
Watch with Real Video!
Watch with Windows Media!

From the official archives of the Broadcast Pioneers of Philadelphia
Top photo & video courtesy of John Zacherle
© 2010, Broadcast Pioneers of Philadelphia
All Rights Reserved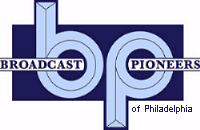 The e-mail address of the Broadcast Pioneers of Philadelphia is pioneers@broadcastpioneers.com