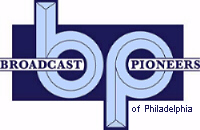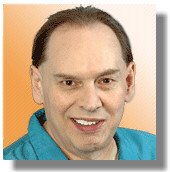 Big Ron O'Brien
WOGL Publicity Photo
2004

Born on Wednesday, October 24, 1951, Big Ron O'Brien was a "Boss Jock" at WFIL, Famous 56 from 1976 to 1979, but he started his career in1969 at KUDL in the Kansas City market. Two years before, KUDL, which was licensed to Fairway, about 9 miles away from the big city, decided to challenge the big rocker WHB. KUDL, the Big 13-8, carved out a nice piece of the market share.
Just a couple months before his death, Big Ron O'Brien wrote:
My "radio career" started before high school, but at this time of year, I remember my high school radio station. Most such stations can only be received on the school's campus or have a 10 watt signal that covers a mile or so. In 1968, I was a junior at Des Moines Technical High, a school with a TV station (Channel 11) and a 5,000 watt radio station which covered 2/3rds of the state of Iowa.

These were non-commercial stations doing educational programs during the day, but in the evening high school students rotated shifts playing the top 40 hits of the day. Because of the power of the radio station, we were promoted by the record distributors out of Minneapolis. One day one of those distributors called my main teacher, Mr. Herbert and asked if we wanted a celebrity interview with Dino Danelli of The Young Rascals. As luck would have it, Dino would be calling in during one of my shifts.

So there I was on April 4, 1968. His call came in right on schedule at 7:45. Here was the big rock star talking to the 16 year old DJ who had never done an interview in his life. One the other end of the phone he was probably rolling his eyes dealing with the "what's your favorite color" questions from his inexperienced host.

Just as his moment of suffering was just about to be over, the teletype machine in the corner of our little studio started buzzing and dinging and chirping....which meant a major news bulletin was coming in. I said, "Hold on Dino, I better check this out."

I came back with my voice shaking an announced to Dino and whoever was listening that the news was bad, Dr. Martin Luther King had been shot in Memphis and was critically injured. We didn't know how that drama was fated to play out at the time, so we both said a little prayer at Dino's urging.

Dino stayed on the air for another 45 minutes talking about Dr. King and how much his words had inspired their new album, "Freedom Suite," especially songs like "People Got To Be Free" and "A Ray Of Hope." This kid from Iowa learned much that night.

The radio lesson in how to interview seems petty today. The real lesson is how much Dr. Martin Luther King inspired good people of all creeds and colors to judge each other by character and not superficial appearances. Now that his life is celebrated with a federal holiday, many of us will not work on January 21 this year. Personally, I prefer to be at my post, as usual at 3pm. For all the progress we've made in my life, Dr. King's work is not yet done. It is left up to us to do that work....
Big Ron was at KUDL in 1969 and 1970. By the way, in 1976, Jeff Christie came rocking to the station. You may know Jeff by his real name, Rush Limbaugh.
In '70, O'Brien went to KTLK in Denver, where former WCAU talk host Al Julius had worked. The station's nickname was K-Talk, although they were "Top 40."
Next Ron jumped to WQXI in Atlanta in 1972 and later that year onto Chicago and WCFL where he stayed for 4 years. During 1976, he went to WOKY in Milwaukee and a few months later, he landed at Famous 56, WFIL.
After three years here in Philly, he moved to KFI in LA and three years after that, he jumped ship to competing KIIS. St. Louis and KWK welcomed Ron in 1985 where he stayed for 9 years until his return to Denver and KZDG.
In 1996, Big Ron O'Brien returned to Philly and WYXR (Star 104.5). In 1999, the station became Alice and with new call letters, WLCE. Ron stayed through 2002 when he went to WOGL-FM, the oldies station in Philadelphia doing afternoon drive until a couple months before his death.
At Christmas time in 2007, Big Ron O'Brien wrote:
Raise your candy cane if your Christmas is shrinking. Mine certainly is. In my childhood, we'd all go to grandma and grampa's house. All the aunts and uncles would be there, 20 plus people all together.

Then grandma passed and grampa moved to an apartment at the senior center, so the celebration moved to my mom's condo. About that time, my cousins were going off to college and they didn't make it back every Christmas and the shrinkage was on, until this Christmas it will just be me and mom.

Luckily, the memories grow bigger to compenstate for the loss in attendance. Grampa's house was a 3 story affair with stairs up to the attic. At some point during Christmas eve, we kids would hear the sound of thumping up in the attic and we raced up to catch Santa in the act of delivering the presents. We never caught him, but we were so sure that all the aunts and uncles were downstairs with us, who else could it have been? That magic has never left me, I still believe in Santa Claus.

I also believe in green bean casserole, seven layer salad, punch made from 7-Up and sorbet, cinnamon rolls on Christmas morning and my aunt's "roll up" cookies in 2 flavors, of course, date and chocolate. Don't remind me of how many years its been since I had any of that stuff, it seems like only yesterday.
During his extensive career, Big Ron received an A.I.R. Award and was nominated twice for Radio & Records Top 40 DJ of the year. Big Ron died on Sunday morning, April 27, 2008 of complications from pneumonia, which he was battling for his last couple of months of life. O'Brien was a huge baseball fan and loved the Phillies. Ron was 56 and lived in King of Prussia.

From the official archives of the Broadcast Pioneers of Philadelphia
Photo courtesy of WOGL
Written and researched by Broadcast Pioneers historian Gerry Wilkinson
© 2008, Broadcast Pioneers of Philadelphia
All Rights Reserved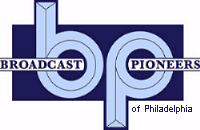 The e-mail address of the Broadcast Pioneers of Philadelphia is pioneers@broadcastpioneers.com