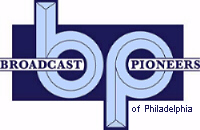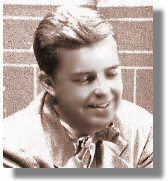 Here's something that was in our files. It dates from about 1954. It was on a photocopy and was typed on an old typewriter. Who wrote it and where it came from, we do not know.

On Friday, December 18, 1953 at about 11:15 am, the FCC issued to WPTZ, Channel 3, its official color experimental license which authorized the transmission of color video on the station. Three hours later, color television hit the airwaves in Philadelphia with a color commercial made up of slides. George Skinner hosts several programs on Channel 3. One aired between 2 pm and 2:30 called "Skinner's Spotlight." It was during this time that the first color telecast under an official FCC license took place. It was the first in the nation and it was on Channel 3 at about 2:20 pm. Philadelphians lucky enough to own color TV sets saw the nation's first color telecast via Skinner's Spotlight (seen Monday through Friday, 2 to 2:30 pm).
On Friday, December 18 (1953), at approximately 11:15 am, WPTZ, Channel 3, received its official FCC experimental color license, authorizing transmission of color video during regular broadcast hours. At 2:20 pm, December 18th, Philadelphians lucky enough to own color TV sets saw the nation's first color telecast via Skinner's Spotlight (seen Monday through Friday, 2 to 2:30 pm). Thus, once again the Spotlight Show had come up with a first and used its flexible format to the advantage of the viewers.

Back in November, the show had hit the nation's video headlines by introducing the youngest regular TV star, the now famous Miss Terry who's youthful antics and reactions are recorded daily on the Spotlight stanza.

Are gimmicks, trumped up stunts, and "firsts" the basis of this show's format? Not at all, according to George Skinner, the program's emcee and name sake. Skinner states that the show is primarily pointed towards the housewife viewer but that no specific format is followed and no boundaries, within propriety, are set up.

Inaugurated in August of 1953, Skinner's Spotlight normally follows a regular daily schedule which presents book reviewer Charles Lee; Jerry Gaghan, well-known local newspaper columnist and drama critic; Don Rose, author of the "Stuff and Nonsense" newspaper column; and a weekly fashion show.

Standard and "off the beaten path" personalities stand toe to toe in the spotlight of the Skinner show. In person interviews have included the glamour of the entertainment world in the persons of Monica Lewis, Kitty Kallen, Bob Specht, and beauty queens, as well as the less glamorous stories of a missionary from Africa, the pilot of the KLM airliner that made the non-stop trans-Atlantic passenger flight, and the captain of a houseboat which, equipped with just an outboard motor, made a special speed run from Boston to Florida.

Realizing the basic principle of showmanship, that the public likes the unusual, Skinner has pulled gimmicks or stunts such as the one the prove the honesty of the average citizen. A young lady was given 200 silver dollars and instructed to spill the coins, suddenly while walking along a busy city street. She was then to enact the role of a worried desperate secretary who would be greatly harangued by her boss if she didn't find all the missing coins. Passersby scoured the sidewalks, helping the frantic girl recover the coins. The girl then returned to the station and a count was made on Skinner's Spotlight. Of the 200 dollars spilled, 199 were returned, and the Spotlight viewers were given a sound shot in the arm regarding the honesty of their fellowmen.

The man behind Spotlight, as well as in it, Skinner himself, is well qualified to handle people and evaluate that, which would interest the public. Although a native of Portland, Oregon, he gained a wealth of newspaper and radio experience in the state of Ohio.

In 1948, Skinner entered the Philadelphia radio scene as a producer at KYW. He was that station's original weatherman and lays claim to being the first local radio broadcaster to fill five minutes of airtime with 30 seconds of weather, information (filling in the explanatory and sidelight chatter that is now the familiar format).

Joining WPTZ in October of '48, as producer of Double Date (which aired Mondays from 7 to 7:15 pm), Skinner made his before camera debut with the Quick on the Draw show and followed up with Philadelphia's first video disk jockey program, Whirligig. During the two and one half year span, of this show, the video audience was introduced to and made stars of vocalists Charlie Dobson and Betty Clooney, accordionist Tony DeSimone, and actor Bob Courtleigh, now of Atom Squad.

In addition to Skinner's Spotlight, George is currently seen daily, Monday through Friday, 9 am to 10 am, on Let Skinner Do It. As Network News Director for WPTZ, he handles coverage, copy and narration of any portion of the NBC Network shows, Today and John Cameron Swayze's News, which originates from Philadelphia.

Joe Earley, who worked with George Skinner on "Let Skinner Do It" as Mr. Rivets, emails:
Knew him well. Started Mr. Rivet's on "Let Skinner Do It" Did the show every day for, I guess, two years until George left for WCBS-TV in New York... Wanted to take me along to do the N.Y. show but couldn't clear "Mr. Rivets" with WPTZ. They said they owned the name and the character. Alan Scott (in the spring of 1954) took over the show and I stayed with "Let Scott Do It"....
The above piece mentions that George Skinner was the one person to do five minutes of weather on local radio in Philadelphia. Well, if the timetable mentioned in the article is right (1948), then he was NOT first. Broadcast Pioneers member Dr. Francis Davis was. Here's an e-mail from him...
I've been teaching 5 days a week at the high school so I haven't had time to become very proficient in the use of the computer.

With regard to your latest inquiry, I started doing 5 minute weathercasts 3 times daily (7 AM, 7 PM and 11 PM) on WFIL (radio) in 1947 and added TV weathercasts in 1948. I don't know who can rightfully lay claim to being first, but I am pretty sure he came after me if he started in 1948.
There have been repeated reports on the Internet that a color Felso soap commercial (live) was aired during Skinner's program. We have never been able to confirm this. We believe that it may be "urban legend."
However, we were able to confirm that on Friday, October 30, 1953, Philadelphia saw its first color pictures via closed circuit (not a broadcast). It was on WPTZ, Channel 3 in Philadelphia. WPTZ clients, both advertisers and agencies, were on hand as the station did a color presentation of slides and film of local products. The video originated from the Philco Research Labs at c and Tioga, four miles away from their downtown studios. Audio was read from the station's center city control room by George Skinner. There were 3 of the approx. 100 color receivers in Philly at the demonstration with black & white monitors side by side for comparison. This was NOT a broadcast.
From the official archives of the Broadcast Pioneers of Philadelphia
Photo originally donated by Ed Hunt
© 2011, Broadcast Pioneers of Philadelphia
All Rights Reserved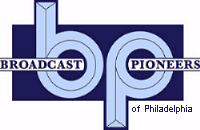 The e-mail address of the Broadcast Pioneers of Philadelphia is pioneers@broadcastpioneers.com