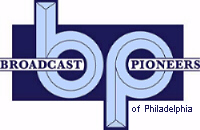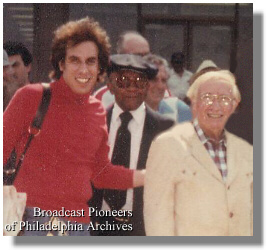 (left to right) Steve Leon, Jimmy Carroll and Max Leon
Keystone Race Track
Wednesday, May 26, 1982

Broadcast Pioneers member Max M. Leon owned WDAS AM & FM for 30 years. Max served as one of our vice-presidents and was a founding member of our organization.
In 1968, WDAS-FM started doing separate programming from WDAS (AM). For almost three years, it was run by Broadcast Pioneers member Hy Lit and was nicknamed "Hyski's Underground." Early in 1971, Steve Leon, Max's only son took over the reins of WDAS-FM.
During this time, Steve's show aired six nights a week and on Saturday night it featured the old radio dramas of "The Shadow" series. After its half-year run, the station aired "The Devil and Mr. O," a syndicated title for the old "Lights Out" radio series.
Steve Leon was known on the air as "My Father's Son." The station was one of the free form progressive rock outlets of that era. We have a short audio clip from the first night "The Shadow" aired. It was early 1971.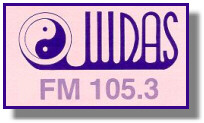 WDAS-FM Logo
circa 1975
The 1975 logo shown above was designed by one of Max Leon's grandsons who at that same time also redesigned the AM station's logo.

From the official archives of the Broadcast Pioneers of Philadelphia
Audio & Logo originally donated by Broadcast Pioneers member Gerry Wilkinson
Photo originally donated by Broadcast Pioneers member Ruth Leon Weiman, Steve's sister
© 2008, Broadcast Pioneers of Philadelphia
All Rights Reserved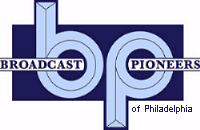 The e-mail address of the Broadcast Pioneers of Philadelphia is pioneers@broadcastpioneers.com