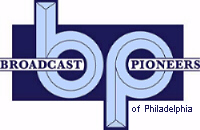 Talent Trend with Dick Clark
WFIL-TV & WLYH-TV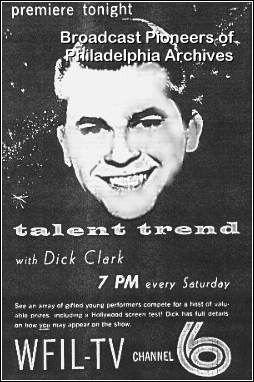 WFIL Print Ad
for Saturday, October 12, 1957 show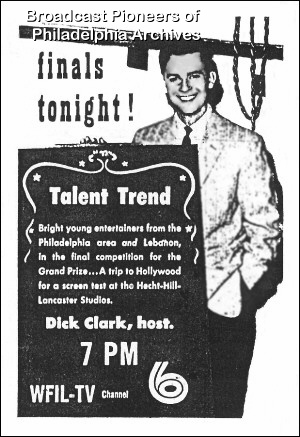 WFIL Print Ad
for Saturday, December 21, 1957 show

In late 1957, while Dick Clark was hosting American Bandstand on the network, he was also the MC of a local program Saturday evenings called "Talent Trend." It was aired Saturdays from 7 pm to 7:30 and was carried live over WFIL-TV and sister station WLYH-TV, Channel 15 in Lebanon, Pennsylvania. Both stations were owned by Triangle Publications.
The show was described as "Dick Clark hosts a local live talent series featuring performers from the Delaware Valley area." There were eleven live programs in the series. The first airing was on Saturday, October 12, 1957 with the last broadcast on December 21, 1957. "Talent Trend" went off the air after that evening and on Saturday, January 18, 1958, "The Dick Clark Beechnut Show" premiered from "The Little Theater" in New York City on ABC-TV.
It is believed that "Talent Trend" ended because of the start of "The Dick Clark Beechnut Show" for ABC-TV four weeks later. The two shows were only a half-hour apart. Both live programs were on Saturdays, "Talent Trend" aired at 7 pm and the "Beechnut Show" airing at 7:30 pm. With one program originating from Philadelphia and the other in New York City, there was no way that Dick Clark could do both.

From the official archives of the Broadcast Pioneers of Philadelphia
Advertisements originally donated by Broadcast Pioneers member Gerry Wilkinson
© 2005, All Rights Reserved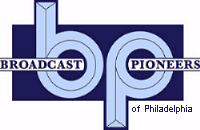 The e-mail address of the Broadcast Pioneers of Philadelphia is pioneers@broadcastpioneers.com