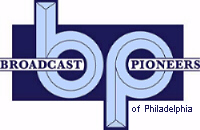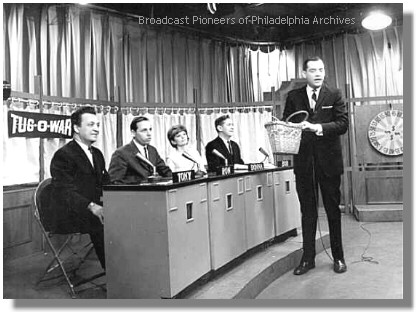 The Set of "Tug-O-War"
WRCV Studios
1619 Walnut Street
Center City Philadelphia
1963

WRCV-TV was the NBC O&O operating on Channel 3 in Philadelphia. This is a publicity photo which was posed. "Tug-O-War" host Bill "Wee Willie" Webber is standing on the extreme right and is holding a basket. It was an early afternoon program seen daily, Monday through Friday on WRCV-TV.
Immediately to Bill's left is Channel 3 newscaster and announcer Bob Bradley. Bradley was not a contestant on the show, but merely sitting in the chair for the photo. A close-up is at the left.

Bob Bradley was our "Person of the Year" for 1986.

In six months, Bill had doubled the station's ratings in the program's 12:30 to 1 pm time period. Webber was called into a manager's office and Bill thought he was getting a raise. However, Bill found himself without work.

TUG-O-WAR was cancelled to make room for a new program, "The Mike Douglas Show."

From the official archives of the Broadcast Pioneers of Philadelphia
Photo originally donated by Broadcast Pioneers member Bill Webber
© 2000, All Rights Reserved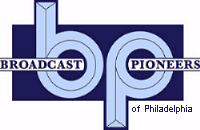 The e-mail address of the Broadcast Pioneers of Philadelphia is pioneers@broadcastpioneers.com