Channel 3 over the years has aired many different cooking programs including one that featured Ernie Kovacs and another one with Pete Boyle. However, the most well-known is probably TELEVISION KITCHEN with Florence Hanford. The program aired in different time periods, but always in the afternoon and always on Wednesdays. Through most of its history, it ran Wednesdays at 2:30 pm (until 3 pm) and was sponsored by the Philadelphia Electric Company. For example, in November of 1953 and February of 1956, the program was in the 2:30 pm time period. On November 18, 1953, just in time for Thanksgiving, Florence showed how to make "turkey a la king shortcake" and "turkey scrapple."

By Spring of 1954, Broadcast Pioneers member Florence Hanford had done 225 half hour live TV shows. She received in 1954, 3,000 weekly requests for the five recipes aired each show.

On July 29, 1959, Florence did her 500th broadcast of the show. The program was one of the nation's first cooking programs. It was the first cooking show on television anywhere in the country to be regularly broadcast in color starting in September of 1956.
This has been verified by ads and listings in the Philadelphia edition of TV Guide. The Philadelphia Electric Company, which was Florence's sponsor said some years later that it was November of 1956. We have to go with the September 1956 time period for the start of the show in color. Remember, earlier that year, NBC took over the ownership of Channel 3. It was NBC's policy to broadcast in color wherever possible. Why? RCA, NBC's parent company was the major manufacturer of color TV's and no one would buy a color television set if there wasn't something to watch in color.

She was a true television pioneer starting on WPTZ in February of 1947, that was a time when Channel 3 was the ONLY station in town. That 20 minute cooking demonstration was on the WPTZ show called, "TV Matinee."

Florence was the supervisor of Home Economics for the Philadelphia Electric Company (now PECO). In October of 1949, she started her long running show, Television Kitchen on Channel 3. It was a weekly program, but was aired on Wednesdays. Today, airing a weekly show on a Wednesday afternoon would be unheard of.
In the early days, the TV lights were so hot that they used stiff mashed potatoes instead of ice cream. They also had to make Jello with only one-seventh the amount of water called for in the recipe. Why? Because with more water, the Jello would turn into liquid because of the heat of the television lighting.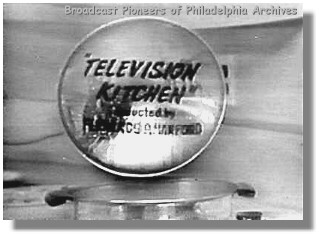 Title Graphic
WPTZ
1953

For her half-hour show, she planned a complete menu. She would list all the equipment needed, the ingredients and any special type of plates required. She then tested every recipe herself. On Mondays, she would have a complete rehearsal to check the timings and appearance of the prepared recipes. Then then would have another rehearsal, preparing everything again. (We are sure that the crew was happy about that, because they got to eat the food.) On Wednesday morning, the actual day the show would air, she would repeat it all again with yet another rehearsal.

When it came to cakes, Hanford had a time schedule that would put an expert to shame. First, she would bake a test cake. Then a second one was baked and used to illustrate frosting techniques during Monday's rehearsal. Then a third cake was baked and frozen, just for an emergency. A fourth one was baked and used during one of the Monday's rehearsals. A fifth one was mixed during the Wednesday morning rehearsal and a sixth one during the live show. A seventh one was used to show frosting techniques on the live broadcast. With all these cakes, does anyone remember if the crew at Channel 3 had a weight problem?

In 1954, Mrs. Hanford said that she never repeated a recipe and never burned anything on camera. By July of 1956, the broadcast was in the 1:55 pm to 2:25 time slot. At 2:25, Pat Landon did five minutes of news.

On Wednesday, July 25, 1956, Channel 3, then using the call letters, WRCV-TV ran an ad saying:
See Florence Hanford prepare delicious recipes on your favorite TELEVISION KITCHEN where every week you see a complete, perfectly balanced meal, appetizingly prepare. New, inexpensive menu ideas to suit every family's budget. NEW TIME! 1:55 pm, Wednesday. WRCV-TV, Channel 3. NBC, a service of RCA.

Wednesday's Menu:

Rib Roast of Beef
Milk Gravy
Browned Potatoes
Peas and Carrots with herbs
Cucumber Tomato Aspic
Nippy Mayonnaise
Chive Bread
Chilled Fresh Fruit Cup
Wonderful Loaf Cake
On Wednesday, November 22, 1950, Channel 3, then using the call letters, WPTZ ran an ad saying:
Ladies! Free Recipes! See TELEVISION KITCHEN Conducted by Florence P. Hanford every Wednesday at 2 pm, WPTZ, Channel 3. (Sponsored by the) Philadelphia Electric Company.

Menu
November 22, 1950:

Broiled Sausage Lamb Chops
Potato Slices
Tomato filled with Kernel Corn
Tri-Fruit Salad
Citrus Mayonnaise
Toasted Coffee-Nut Ice Cream
Iced Vanilla Wafers

Menu
November 29, 1950:

Baked Spareribs
Frankfurters with Sauerkraut
Mashed Potatoes
Vegetable Salad Bowl
Apple Lime Chiffon Cake
That Loaf Cake mentioned above had white frosting on it we understand. Joe Earley (who was Mr. Rivets at Channel 3) told us while we were preparing to record him for our PIONEERS IN BROADCASTING webcast that the crew and staff at Channel 3 would always come into the studio just as Florence's show was ending. The reason, they got to eat the food. Broadcast Pioneers member Gerry Wilkinson, who produced "Great Chefs of Philadelphia" for WHYY-TV (and also our webcast) told Joe that nothing has changed in that respect. While shooting on location for the Channel 12 show, the crew ate so much of the food that there was nothing left for the next taped segment. Thank goodness chef Fritz Blank had an extra one prepared.

An advertisement for the show in July of 1957 said: Florence Hanford brings you NEW ideas for a complete dinner every Wednesday on TV KITCHEN in color, 1 pm Wednesday. WRCV-TV, Channel 3. NBC, a service of RCA. Note the ad referred to the program as TV KITCHEN and not TELEVISION KITCHEN. In 1964, Florence published a cookbook entitled, "Florence P. Hanford's Television Kitchen Meals." By September of 1965, Florence's show had moved to WFIL-TV. In a telephone conversation with Florence Hanford (she still lives in the area) on March 7, 2002, she told the Broadcast Pioneers of Philadelphia that she stayed on Channel 6 until 1969.
According to her, the reason for the switch in stations was two-fold. Channel 3 was moving "The Mike Douglas Show" from Cleveland to Philadelphia. Westinghouse (who had in 1965 just got control back of Channel 3) owned the Douglas program and needed it aired in Philadelphia. The other was that when NBC returned to Cleveland, they took with them some of the Channel 3 equipment including color cameras. That meant that her show might have to be produced in Black & White for a time. Philadelphia Electric, sponsors of the show, decided it was in the best interest to move "Television Kitchen" to another station. WFIL-TV was selected.

By the way, did you know that Florence had musical talent? She played the electronic organ and was friendly with Larry Ferrari. One other interesting fact is that for a time in the fifties, TV kids host Pete Boyle's son, actor Peter Boyle ("Everybody Loves Raymond") ran camera on Florence's show.

Florence did a total of 1006 shows. For the first year or so, her program was produced by Broadcast Pioneers member Bob Jawer. On March 18, 2002, we interviewed Florence Hanford on video tape. You can watch that conversation (PIONEERS IN BROADCASTING) by looking in our VIDEO section.

We received an e-mail from Dottie Kobik of Tempe, Arizona, a visitor to our site. Dottie was once a resident of Philly and of Southampton, PA. She e-mailed: Do you happen to know the name of Florence Hanford's assistant? She use to hand things to her and say "thank you, Mrs...." What was that name?. Well, we didn't have a clue so we called Florence. She mentioned that over the 22 years of her show, she had many assistants. When Television Kitchen started, the first assistant was Dorothy Hartline and she stayed with the show for a few years. Two others that Hanford could remember were Paula Stephen and Judy Levenson.

Dottie Kobik e-mailed again:
When I was a little girl living in Philly with my parents, my mom and I watched faithfully Florence's show. I think my Mom watched her show until it was no longer broadcast. When I'm home, Mom and I like to cook together and as we are placing food on the table for dinner, we often hand something to the other and say "thank you, Mrs...." Although we know Mrs. Hanford handed it to an assistant and said the assistant's name, we continue the fun using Hanford as the name. Sounds corny, I know. ...Mom is 83, as frisky and self-sufficient as ever and I thought she would enjoy knowing the name Mrs. Hanford use to use. Unfortunately, the three listed (above)... are not familiar to Mom, but that might be the fact that we've forgotten. ...Tell Mrs. Hanford we remember her well and loved her show.
K. Shannon, a visitor to our website, e-mailed:
I am sitting here watching a tribute to Julia Child and telling my family how well I remember seeing Florence Hanford when I was a child. Her program was my favorite show and I always wanted to grow up and have my own assistant to whisk away my dirty dishes as I cook. She predated Julia Child. She is the first TV cook I remember.
Judy Schell, a visitor to our website, e-mailed:
This morning I woke up wondering how I began the career path that I have chosen. It is 5 am. I remember Florence Hanford. You see, I am a Family & Consumer Sciences teacher, a discipline that was formerly called Home Economics in high school. I remembered laying on the floor in my parents' home each time Florence was on TV and enjoying her demonstrations so much.
Anita Zaccaro, a visitor to our website, e-mailed:
I was born in 1953 and when her show was on (we only had one television in the living room, of course), I would get all the pots and pans that my mother would allow and set up a kitchen in front of the TV and pretend to cook along with her. I think that developed my love of cooking. To this day, I watch the food network but have never forgotten my first teacher, Florence. May God Bless her.
Bette (no last name given), a visitor to our website, e-mailed:
I am almost 82 and I never missed her cooking shows. I had her cook books and sent for 2 more for my daughter who was born 1953. Florence sent a leaflet on the cookbooks with and orderform on it. Just in case I wanted more. ...I was leafing through a old file of cut out recipes from Francis Blackwell, "Between Neighbors" and others. Out fell Florence's order form and for about 3 minutes, I was remembering how great Florence was at teaching cooking on TV. ...Florence, you will always live in the hearts of a lot of people.
Dee Dreger, a visitor to our website, e-mailed:
My two daughters watched her show faithfully every Wednesday with me. I have a loose leaf book of her treasured recipes. The assistant we remember was Miss Loud. My older daughter was of course "Florence Hanford" and her sister younger by five years was "Miss Loud."

I did get to meet with and share some time with Florence through a mutual friend. Many people also remember Mrs. Hanford as being a horse woman and a volunteer at New Bolton Center in Kennett Square, PA. What a wonderful lady!
DJ McDowell, a visitor to our website, emailed:
She often emphasized the importance of the variety of color on the plate -- don't forget that fresh parsley!
Broadcast Pioneers member Florence Hanford died on July 1, 2008, just a week after her 99th birthday. On Friday, November 20, 2009, she was inducted into our "Hall of Fame."
--------------------

Known TV Time Periods

November 22, 1950 to December 26, 1951 - Wednesdays from 2 pm to 2:30 (WPTZ)
November 1953 - Wednesdays from 2:30 to 3 pm (WPTZ)
February 1956 - Wednesdays from 2:30 to 3 pm (WRCV-TV)
July 1956 - Wednesdays from 1:55 to 2:25 pm (WRCV-TV)
July 1957 to January 7, 1958 - Wednesdays from 1 pm to 1:30 (WRCV-TV)
January 29, 1958 - Wednesdays from 2 to 2:30 pm (WRCV-TV)
July 20, 1960 - Wednesdays from 1:05 to 1:35 pm (WRCV-TV)
August 3, 1960 - Wednesdays from 1:30 to 2 pm (WRCV-TV)
September 1, 1965 - Wednesdays from 12 noon to 12:30 (WFIL-TV)