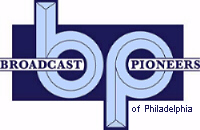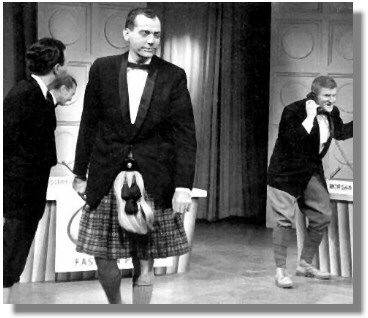 (left to right) Hal Woodard, Jerry Golden, Bill "Wee Willie" Webber and Rex Morgan
WFIL-TV, 46th and Market Streets in Philadelphia
circa 1961

Broadcast Pioneers member Bill "Wee Willie" Webber is shown here in a WFIL-TV Publicity photo. If you look very closely to the set behind Bill, the desk looks like it was for a moderator of a TV game show. On the right, there's another row with these looking like they're for panelists (like "What's My Line"). Is that what's going on?
Well, actually no, it isn't. Bill Webber tells us that it's the set of a Hess' Brothers Department Store show that originated from Studio B at the WFIL-TV facilities, 46th and Market Streets in West Philadelphia. For those who don't know, Studio B is the studio where "American Bandstand" originated its network broadcast.
Hal Woodard was a staff announcer and a TV producer for WFIL-TV during this era. Bill Webber says: "Hal Woodard's wife was a gal named Kay Woodard and she was a record promoter for one of the local record companies. She used to visit all the Radio Stations in the area and promote her label."
Jerry Golden was the Fashion Coordinator for Hess' Department Store. Sometimes, Hess' has been described as the Harrod's (a famous department store in London) of America. Founded in 1897 by two brothers, Charles and Max Hess, it was located at 9th and Hamilton Streets in Allentown, Pennsylvania. The building was demolished in 1996.
By the way, Bill Webber mentioned that many of the Hess Department Store broadcasts were produced and directed by Broadcast Pioneers founding member Lew Klein.

From the official archives of the Broadcast Pioneers of Philadelphia
© 2006, All Rights Reserved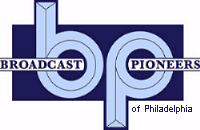 The e-mail address of the Broadcast Pioneers of Philadelphia is pioneers@broadcastpioneers.com