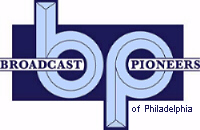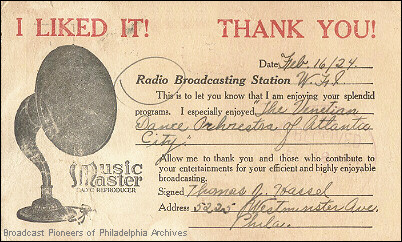 Radio Audience "Broadcast Applause Card" (Back)
WFI Radio - Philadelphia
1924
(Click on the image to see a larger version)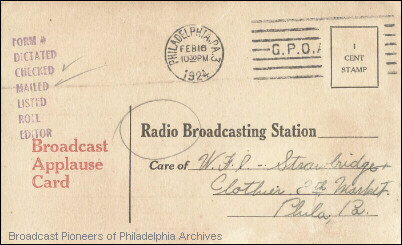 Radio Audience "Broadcast Applause Card" (Front)
WFI Radio - Philadelphia
1924
(Click on the image to see a larger version)
Letter from listener
WFI Radio - Philadelphia
1924
(Click on the image to see a larger version)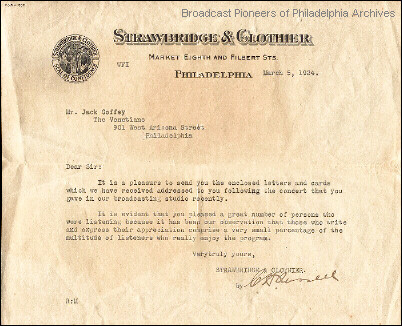 Letter from WFI to performer
WFI Radio - Philadelphia
1924
(Click on the image to see a larger version)

Here's four images from three different pieces of correspondence dealing with WFI Radio in 1924. Eleven years later in 1935, WFI and WLIT merged to form WFIL Radio.
A "Broadcast Applause Card" was a postcard that listeners could obtain. Sometimes, they came in radio fan magazines. Othertimes, they were distributed by hand. This is the earliest known card in existence for a Philadelphia radio station.
The Venetians was a local orchestra led by Jack Coffey (John G. Coffey, Sr). John G. Coffey, Jr. who donated this material to the Broadcast Pioneers of Philadelphia e-mailed: "John G. Coffey had a small band which regularly broadcast on radio. My father told me that he thought he may have been one of the first bands to do so." John Sr. passed away in 1982.

From the official archives of the Broadcast Pioneers of Philadelphia
Material originally donated by John G. Coffey, Jr.
Special Thanks to Charlie Higgins
© 2005 & 2015, Broadcast Pioneers of Philadelphia
All Rights Reserved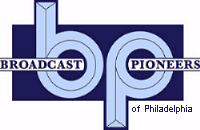 The e-mail address of the Broadcast Pioneers of Philadelphia is pioneers@broadcastpioneers.com