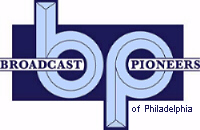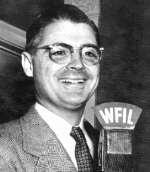 Broadcast Pioneers member Tom Moorehead
1948
Former President of the Broadcast Pioneers of Philadelphia Tom Moorehead was an announcer for the WFIL Stations. While he was best known as a sportscaster, he did do other things like host a TV show on Channel 6 entitled, "Stop, Look & Listen." Tom Moorehead was one of our founding members and served as 8th President from 1969 to 1970.

We dug into our archive and came up with this February 6, 1946 radio broadcast of part of an ice hockey game between the Philadelphia Falcons and the New York Rovers. The game was played at the Philadelphia Arena which in future years would be right next door to the WFIL studios. However, at this time (1946), WFIL Radio was broadcasting from the Widener Building in Center City Philly.

We also know that this game was not broadcast live but was recorded onto several 16 inch transcription discs. This cut, which is almost 13 minutes long, is the only known surviving disc. Most likely, the game would have never been recorded if it wasn't scheduled for a delay broadcast.

Joe Nadler of Charlotte, NC, a visitor to our website e-mailed: If you listen to the clip, there are several mentions of a player on the New York team, "Shero." This is none other than Fred Shero, who coached the Flyers to two Stanley Cups....

From the official archives of the Broadcast Pioneers of Philadelphia
Original 16" transcription disc donated by Broadcast Pioneers member Ed Elias
Transfer of disc to analog by Broadcast Pioneers member Dave Custis
Transfer of analog to digital & sound restoration by Broadcast Pioneers member Gerry Wilkinson
Photo originally donated by the family of Tom Moorehead
© 2008, Broadcast Pioneers of Philadelphia
All Rights Reserved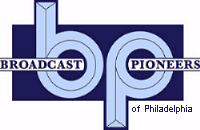 The e-mail address of the Broadcast Pioneers of Philadelphia is pioneers@broadcastpioneers.com