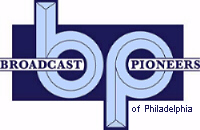 Who Are We?
The Broadcast Pioneers of Philadelphia is a non-profit membership based organization, founded in January of 1962 as a chapter of the national organization of the Broadcast Pioneers. In 1995, we became an independent entity. Full membership is open to those who have been associated with broadcast/communications or associated fields for 10 years or more. Associate membership for those with less time.
Our membership includes station owners and executives, management, talent, sales, engineering, ad agency personnel and many others in all levels of broadcasting, communications and all related fields. The group holds monthly luncheon meetings to socialize and hear industry leaders as guest speakers. At these meetings, we learn the latest in industry trends, remember the past and promote broadcast-related causes, including support for the highest standards of broadcasting.
***We award scholarships yearly to deserving area college students in the communications field. In 2015, twenty persons received organization scholarship grants.

***We conduct educational and charitable activities. Symposiums for communications students are manned by working professionals and held at local broadcast stations. Our college career nights are similar to our symposiums except they are held on local university campuses.

***We recognize persons who have made significant contributions to the field of broadcasting and communications in the Delaware Valley. Broadcasters are recognized in both our PERSON OF THE YEAR program and in our HALL OF FAME. This evening funds our educational activities including but not limited to scholarships for communications students from regional universities and colleges.

***We record facts, data and traditions of the Broadcasting and Communications Industry in the Delaware Valley for use by current and future generations. On-going projects include collecting memorabilia and artifacts and to develop a written history of local broadcasting, part of that is this website. An archive of broadcasting data, articles, video, audio, photos and historical information is being collected.

***We strive to influence current broadcasting and communications practices to favor more cultural, educational and family oriented quality programming.
In 1942, NBC Radio gave a dinner banquet to honor famed news broadcaster H. V. Kaltenborn & his 20 years in broadcasting. After the event, he started thinking that there should be an association of radio pioneers like himself. Shortly thereafter, he took the initiative and formed an organization called "The Twenty Year Club." That group was the beginning of the Broadcast Pioneers of Philadelphia.

In 1947, the organization was reorganized as "The Radio Pioneers Club," with a Constitution and By-Laws. In 1957, in order to encompass all branches of the radio, television and cable industry, the group's name was changed to "The Broadcast Pioneers." The membership included pioneers in all sections of the radio, television and cable industry. They included legal, programming, artists, owners, managers, public relations, publicity, advertising, engineering, finance and government. At both national and local chapter meetings, one had an opportunity to spend pleasant moments with old friends and associates, and to make new ones.

The constitution specified that the purpose of the organization was: To establish a membership organization of persons, who, by their long years of service in the field of Broadcasting, desire to become associated for the purposes of friendship and education. The (organization)... shall be a central clearinghouse for the exchange of information and historical data about the industry and shall record...facts and data about the history of the industry and its traditions for use by this and future generations. It is felt that this organization, with the resultant exchange of information, would make a valuable contribution to the public interest.

By January of 1962, there were chapters in Washington, Cleveland, Detroit, Los Angeles, Chicago, our own chapter here in Philadelphia and the first local chapter which was based in New York City.

1950 marked the establishment of a National Broadcasters Hall of Fame in which memories of men and women who contributions have placed them among the immortals will be perpetuated. For many years, the national organization of the Broadcast Pioneers had sponsored the luncheon for the annual prestigious George Foster Peabody Awards, which recognizes the most distinguished and meritorious public service rendered each year by radio and television. Our first Philadelphia based Hall of Fame Luncheon was held in June of 1992 at the Four Seasons Hotel in Center City Philly. Fourteen industry pioneers were honored for their extraordinary contributions of lasting value to the advancement of our industry in our market. Each year, we continue to induct more "legends" into of Philadelphia Hall of Fame.

Beginning in 1966, and every year since, The Broadcast Pioneers of Philadelphia have honored at a banquet, our "Person of the Year." Our list of honorees is truly a "Who's Who" of Philadelphia broadcasting.

The national Broadcast Pioneers Library was formally dedicated on April 19, 1972. It was originally housed in the National Association of Broadcasters Building in Washington, D.C. and later moved to its current location at Hornbake Library on the campus of the University of Maryland in College Park.

The Philadelphia Chapter of the Broadcast Pioneers was organized in January of 1962. Membership has grown each year and we now, in 2015, have more members than ever before (about 500). Many of our people are considered broadcast legends in the Philadelphia market. We are innovators in the Delaware Valley broadcast market, both past and present.

In 1950, the national organization started an "Oral History Project." During the early years of the Philadelphia chapter, we also participated in this endeavor. However, all recordings were sent to the national organization. Some ended up at the Broadcast Pioneers Library at the University of Maryland. In 1991, our organization started its own "The Oral History Project." It searched out individuals to tape interviews to record historical information as well as reminiscences. This project was set up as a source of material to eventually be made available to future historians of the industry, and to those writing books which dwell on some phase of broadcasting. It is now being continued as part of our webcast series, "Pioneers in Broadcasting." The final result of this effort is to have a history of broadcasting from one of the richest markets in the world, Philadelphia. It is and will be an on-going project as more history is made each and every year.

On May 25, 1979, our second President, Raymond S. Green, owner of WFLN radio, spoke at our annual "Person of the Year" banquet. He talked a little about the early days of the organization.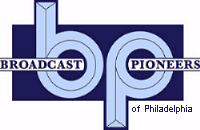 The e-mail address of the Broadcast Pioneers of Philadelphia is pioneers@broadcastpioneers.com