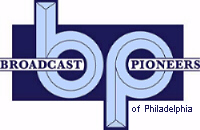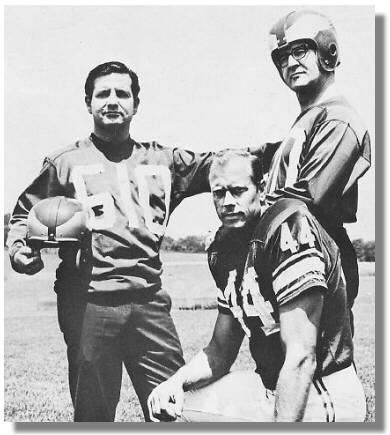 (Standing, left to right) Tom Brown and Joe McCauley
Kneeling is Pete Retzlaff
1965

This picture was used (cropped slightly different) in a 1965 WIP Radio print advertisement promoting the airing of the 1965 Eagles games over 610, WIP. The promo was labeled "The Three Hoarsemen."
It read: These three gridiron gladiators will be whooping it up for the '65 Eagles almost 'til they're hoarse. But they will still have enough good voice left to do their jobs. The violent looking one with glasses is Joe McCauley, alias the Morning Mayor, and a Philly favorite between 6 and 10 am on WIP radio. His menacing cohort is Tom Brown whose usual environment is WIP between 4 and 8 pm. Tom the Terrific, runs interference for motorists wading through end-of-day traffic. And ferocious 44 is, naturally, Pete Retzlaff an all-pro on the football field and a member of WIP's starting lineup. Afternoons - 4:05, 5:05 and 6:05. WIP/Radio 610.

From the official archives of the Broadcast Pioneers of Philadelphia
Photo originally donated by Broadcast Pioneers member Roger Hendler
© 2010, Broadcast Pioneers of Philadelphia
All Rights Reserved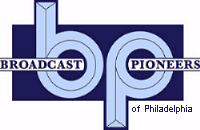 The e-mail address of the Broadcast Pioneers of Philadelphia is pioneers@broadcastpioneers.com