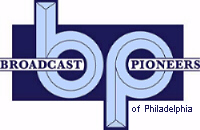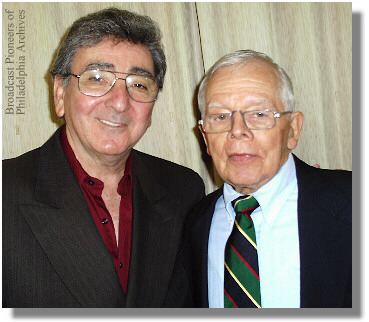 (Left to right) Joe Terry of "Danny & the Juniors" and Nat Wright
Broadcast Pioneers of Philadelphia Luncheon
Wednesday, March 15, 2006

In the mid-sixties, the number one radio station in Philadelphia was WIP. The station had a well-staffed, talented, full-time news staff. This wasn't by chance, but planned by the station's owners. "They wanted the best independent radio team in the Delaware Valley," said Nat Wright who started in broadcasting in 1951. During drive time, they had five-minute newscasts every half hour with hourly 5-minute casts during the rest of the schedule. Brief headlines were on the half hour. During the Cuban missile crisis and other major events, the five minute newscasts were doubled in length. Remember that radio news during this era was a very sellable commodity. The Broadcast Pioneers has in their archive, excerpts of four different WIP newscasters. The earliest excerpt dates from September of 1965 and features Gordon Thomas. He came to WIP from WIBG in 1963 and stayed until the nineties. Nat Wright said that when he was doing the all night shift, Gordon was the first person arriving at the station in the morning...about 4:30 am. Gordon Thomas passed away in April of 2002.

Next is Broadcast Pioneers member Nat Wright. Nat joined WIP in August of 1961 from WWDC in the nation's capital. In Washington, Wright did a popular personality music program and also had news experience. Upon joining WIP, he became a swing guy. That is, working 3 days a week doing news and 3 days doing fill in music. In the fall of 1967, station program director Dick Carr (a member of the Broadcast Pioneers of Philadelphia) asked Wright to do the all night show (The Dawn Patrol) just for a little while until WIP could figure out what to do in that time period. He became Nat, the All Night Rat and did the shift for 17 years. Wright was the last person hired by the station as a swing person. After that, you were either music or news...never both. This news clip dates from late January of 1966.

Dating from that same time is part of a newscast by Broadcast Pioneers member John Paul Weber. John started in broadcasting in 1936 at WTEL working for a couple bucks a week. In 1937, he joined WIP for a whopping $20 weekly. He stayed with WIP until 1982 when he retired. However, not wanting to exit from broadcasting totally, he did continue to do some part-time work for the station until 1985. Nat Wright mentioned that John was very good at doing "character voices" and appeared in early WIP radio dramas and commercials.

Last is Robert Vaughn. This excerpt dates from sometime in 1966. He started at WIP in the early sixties and stayed about five years before moving on to the staff of WCBS Radio, New York where he stayed until retirement. FYI, he went to the all-news operation as the same time that Steve Porter (the first voice on KYW Newsradio) went to the station.
Click on the links to hear audio! You will need the FREE Real Audio player installed on your computer in order to listen.

From the official archives of the Broadcast Pioneers of Philadelphia
Written and researched by Broadcast Pioneers member Gerry Wilkinson, who donated the audio
© 2006 & 2016, Broadcast Pioneers of Philadelphia
All Rights Reserved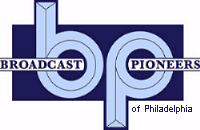 The e-mail address of the Broadcast Pioneers of Philadelphia is pioneers@broadcastpioneers.com