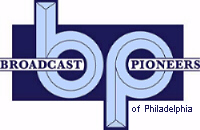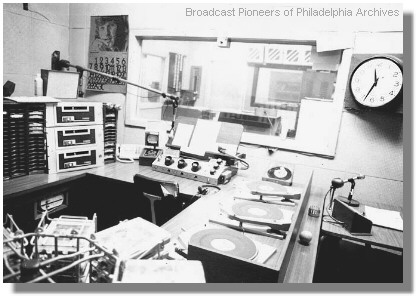 Air Studio "B" of WPEN (AM)
1972
This was the main air studio at WPEN at 22nd and Walnut Streets in Center City Phiadelphia. At this time, the announcers had taken over the turntables, although the engineer still played the carted spots and brought in the network, etc. Master Control is visible through the window.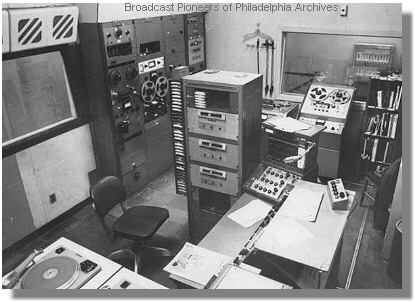 WPEN Master Control
1973
The WPEN Master Control Room by 1973 was used to originate almost all the daily programming. In prior years, it was often a true master control that only handled switching of studios (five different studios were used daily). Notable in this view are the three Collins (built by ATC) cartridge machines, three Ampex 350-series tape machines and an older Ampex 400-series machine, and the old inter-studio phone system (above the tape remote controls) that ran on batteries and allowed patching of any location to any other.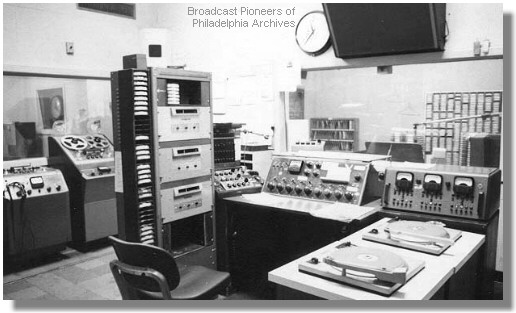 WPEN Master Control (Different angle)
1973
This shot of the WPEN Master Control Room from a different angle shows the RCA console and switcher. Studio B is in the background.
From the official archives of the Broadcast Pioneers of Philadelphia
Photos and descriptions originally donated by Doug Fearn
All Rights Reserved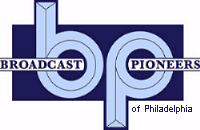 The e-mail address of the Broadcast Pioneers of Philadelphia is pioneers@broadcastpioneers.com