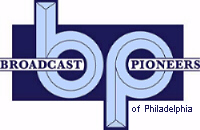 Showing Snooper the Squirrel at the bottom, we see Uncle Pete Boyle smiling at him.

Snooper was made by Lee Dexter, better known as the creator, puppet maker and air talent of "Bertie the Bunyip."

Note that Uncle Pete is holding a chart which talks about a good lunch. At the top, it says, "Acme," his sponsor.

Uncle Pete was one of Philly's favorite kids hosts.
Here's Alan Scott on the set of "Let Scott Do It." Across the table from him is Broadcast Pioneers Jane King Hall, who had various duties on the program.

A huge amount of commercials at that time were live as was this rehearsal for Fels Naptha soap. Interesting that when Jane started in broadcasting in 1933, her first radio show was sponsored by Fels Naptha.

"Let Scott Do It" also featured Broadcast Pioneers member Joe Earley as "Mr. Rivets."
This is on the set of "Television Kitchen" which starred Florence Hanford. She was one of Philly's first TV chefs and her program ran for decades.

These color pictures are stills taken from color film in the Channel 3 archive. The station at that time, 1955, was WPTZ and was owned by Westinghouse broadcasting.

The male chef on the left has yet to be identified.

This was a rehearsal for her TV broadcast.
We have put together some video from this color film. The original negatives were shot without any audio.
This material was shot in 1955.
Watch in Real Video!
Watch in Windows Media!

From the official archives of the Broadcast Pioneers of Philadelphia
Video and stills originally taken from color film in the KYW-TV, CBS 3 Archives
© 2010, Broadcast Pioneers of Philadelphia
All Rights Reserved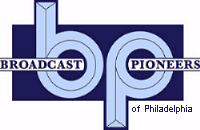 The e-mail address of the Broadcast Pioneers of Philadelphia is pioneers@broadcastpioneers.com