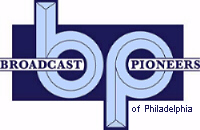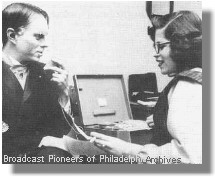 John Zacherle in character as Roland
with WRTI's Jeanne Horvitz (Tannenbaum)
WRTI-FM Studios
March 1958

Here's John Zacherle in character as Roland in 1958. Ten years later, in 1968, he once again visited the WRTI studios. On this occasion, it was for a taped interview.

The station had already one weekly series of radio drama on the air, "Playhouse 90.1" (already a lost art), and for the Spring 1968 season, a second series was offered, "Thru the Mist," a sort of Twilight Zone for radio. However, one of the time slots was cut to 20 minutes because of a Temple University sporting event. Broadcast Pioneers member Gerry Wilkinson, who produced both drama series, balked at the idea of cutting one of the programs which was already been produced and recorded.

Instead, he thought it might be a good publicity stunt to interview John Zacherle, who played Roland a decade before on WCAU-TV's Shock Theater. This is how this interview came into existence. The original tape lasted for 18 and a half minutes and was cut to fit into the proper time slot (reduced by about 90 seconds). First, what we have is the actual, original, edited interview. This air tape of the show has been buried for the last 32 years in the basement of Gerry Wilkinson's mother's house and "discovered" in 1999.
Listen with Real Audio!
Listen with Windows Media!
John Zacherle currently is living in New York City and from time to time, still makes personal appearances. Temple University student Bruce Smallwood, who did the interview, later went on to become News Director at WPEN and eventually ended up with Mutual News. He passed away in 1988 at the age of 44.

This version of the interview was aired on April 27, 1968 at 7:30 pm over WRTI-FM. While the drama shows in the series were eventually rerun several times on the station and later broadcast on WGLS-FM, the Zacherle interview was broadcast only twice. Once in February of 1968 (the original airing) and once two months later on April 27th. It had but two airings. The interview was recorded in February of 1968, or possibly the end of January. We do not know the record date nor the date of the first airing.

For those in this business, or at least those familiar with it, this program will have extra meaning as John talks about Ol' Potato Head (Charlie Vanda, President of WCAU-TV), Jack Steck, John Facenda and others. Much of the interview is "tongue-in-cheek" and irreverent in flavor, but it was decided (in 1968) to leave it intact.

The original, uncut version of the interview was thought to have been destroyed. Producer Gerry Wilkinson (a member of the Broadcast Pioneers of Philadelphia) found it in April of 2001 in an unmarked box. It is now available here for the very first time. Here is the unedited interview. It is exactly as originally recorded.
Listen with Real Audio!
Listen with Windows Media!
Just in case you are interested, this interview was recorded with one of those wonderful RCA 44 ribbon microphones. It was bi-directional. John spoke into one side and Bruce into the other. The interview was recorded in Studio B of the WRTI-FM studios which were located in the basement of Thomas Hall at the time. Several months later, the station moved across the street to new "digs" in Annenberg Hall. In 1998, the University tore down Thomas Hall, which was originally the Park Avenue Methodist Episcopal Church built in 1886 and had fantastic acoustics.

The tape was recorded at 7 and a half ips and mastered on an Ampex 351 tape recorder. Our audio was mastered from the ORIGINAL master tape.
We also have about a minute of John Zacherle and Bruce Smallwood vamping before the start of the interview.
Listen with Real Audio!
Listen with Windows Media!
Next is a 13 minute sound bite from after the recorded interview was finished. While parts of this are hard to understand, we thought that it still would be of interest to John Zacherle fans.
Listen with Real Audio!
Listen with Windows Media!

From the official archives of The Broadcast Pioneers of Philadelphia
Audio originally donated by the program's producer, Broadcast Pioneers member Gerry Wilkinson
Photo courtesy of the WRTI Old Gang Website
© 2010, Broadcast Pioneers of Philadelphia
All Rights Reserved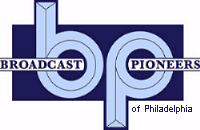 The e-mail address of the Broadcast Pioneers of Philadelphia is pioneers@broadcastpioneers.com