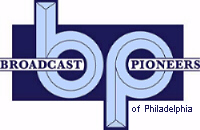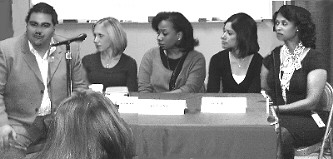 (Left to right) Henry Vazquez, Michelle Grossman, Kim Zachary, Aditi Roy & Eva Blackwell
2008 College Symposium
NBC 10, Bala Cynwyd, PA
Saturday, October 11, 2008
On Saturday, October 11th from 9:30 am to 12:30 pm, the Broadcast Pioneers of Philadelphia and NBC 10, WCAU, Channel 10 hosted "The 7th Annual Broadcast Pioneers Broadcast College Student Symposium.
We had a tour of the station plus a 100 minute panel discussion about careers in broadcasting. Our moderator was our Chairman of the Board, Bill "Wee Willie" Webber who has had a 50 year career in Philadelphia television and radio. Introductory remarks by Paul Gluck, former News Director at Channels 3, 10 & 12.
Our panel included:
Eva Blackwell, NBC 10 Publicist
Michelle Grossman, NBC 10 Meteorologist
Aditi Roy, NBC 10 News Anchor
Henry Vazquez, NBC 10 Promotion Producer
Kim Zachary, NBC 10 Human Resources Director
The event concluded with a pizza lunch where student met the panelists and other broadcasters on a one-to-one basis.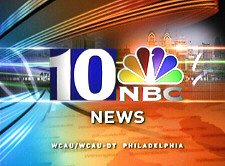 COMPLETE AUDIO!
This Real Audio is divided into four parts. The audio rolls. That is, once you have the audio playing, your computer will automatically switch from segment to segment at the proper time. For those using DSL or cable connections, the time between segments will be short (a second or two). Those using a dial-up connection, the time will be longer. This is normal.
We are also offering the audio playable in the Windows Media Player. It is in four parts. You will have to click on each part separately.
Listen to Part 1!
Listen to Part 2!
Listen to Part 3!
Listen to Part 4!

From the official archives of the Broadcast Pioneers of Philadelphia
Photo originally donated by Broadcast Pioneers member Gerry Wilkinson
© 2008, Broadcast Pioneers of Philadelphia
All Rights Reserved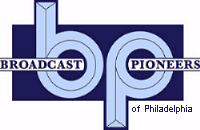 The e-mail address of the Broadcast Pioneers of Philadelphia is pioneers@broadcastpioneers.com