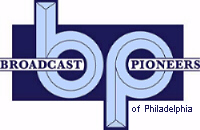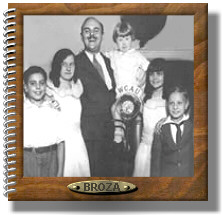 Stan Lee Broza & kids
The Children's Hour Broadcast
circa 1932
This 1932 photo was taken in Studio A of the WCAU Studios when they were at 10th and Arch Streets. You can see the very same studio in this 1927 photo! However, by the time of this audio excerpt, "The Children's Hour" was originating live from the City Line studios.

It's Sunday, December 16, 1956. The broadcast is a simulcast on both WCAU-TV and radio. Air time is 11:30 am to 12:30 pm. Our excerpt picks up shortly before noon.

During the last couple of years of the program, the first half of the show was sponsored by their long time advertiser, Horn & Hardarts. The second part of the broadcast was brought to the audience by the local Plymouth dealers.

Please be advised that even though the commercials state that "It's the 1960 New Plymouth, it is only 1956 and the cars they are talking about are really the 1957 Plymouths. Why?

In a Plymouth promotional brochure, it said: Cars you might have expected in 1960…here now! ...Plymouth! Suddenly it's 1960. 3 years ahead…the only car that dares break the time barrier. Decades ago, it took 5 years to go from the drawing board to the end of the production line. The 1960 models (which came out in 1959) were on the drawing boards as early as 1954. The parent company, Chrysler completely scrapped three years of Plymouth design work that had been spent on the entire line and, instead, went right to designs that were said to be planned for the 1960 model year. Thus the marketing line, "Suddenly, it's 1960!"
In December of 2009, we remastered our audio file of this program. Why? Because technology has progressed and now we can present to you more of the program because of modern technological noise removal techniques.
From the official archives of the Broadcast Pioneers of Philadelphia
Photo originally donated by Broadcast Pioneers member Bill Bransome
Audio originally donated by Broadcast Pioneers member Les Waas
Remastering by Broadcast Pioneers historian Gerry Wilkinson
© 2009, Broadcast Pioneers of Philadelphia
All Rights Reserved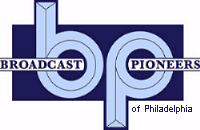 The e-mail address of the Broadcast Pioneers of Philadelphia is pioneers@broadcastpioneers.com