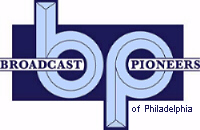 Wayne Cody (Uncle WIP)
WIP Radio
circa 1943

Wayne Cody
WIP Radio
circa 1930

The first known kid's host in Philadelphia broadcasting is Christopher Graham. Better known as "Uncle WIP," Graham passed away in 1929. While there has been several people portraying "Uncle WIP," the second best known is Wayne Cody.


The earliest radio listing that we can find that mentions "Captain Jolly" is from Saturday, August 8, 1931. However, this doesn't mean that the show didn't exist before that date. We know that when "Uncle WIP" came on the air in 1922, the radio listings only called the program "Bedtime Kiddie Stories" with no mention of "Uncle WIP." As his popularity grew, his name was added to the listings. So, this could be something similar.
A few days later, we found another listing from Thursday, August 13, 1931 and another one from Saturday, September 5, 1931, we found a WCAU Radio program called "Captain Jolly" that aired from 5:30 pm to 5:45 pm. We believe that the Captain Jolly was a daily broadcast running Monday through Saturday.
In Europe, the growth of the Nazis continued. This was very distasteful to many Americans and the radio station, we believe, decided to re-brand the program as "The Jolly Man" with no coin and no use of the swastika. In a radio listing dating from Tuesday, June 28, 1932, we found a WCAU Radio program called "The Jolly Man" airing from 5 pm to 5:15.
By May of 1933, The Jolly Man was moved to the 8:30 am time period. The program was still on WCAU by Thanksgiving of 1933. However, just six months later (April of 1934), "The Jolly Man" was broadcast on WFI Radio. In less than a year, the station would became WFIL.
In 1935, "The Jolly Man" was broadcast on WFIL radio. It was a children's show sponsored by Strawbridge and Clothier, a local department store. That business was also owner of WFI which merged with WLIT to form WFIL in January of 1935, just months before. Did Wayne Cody move his popular broadcast over to WFIL? We believe he did.
There was a 1935 book issued called The Jolly Man's Juvenile Jingles. It was written by "your radio friend, Wayne Cody, The Jolly Man." The book was paperbound and measured six by 9 inches. Each page had one poem with a small drawing. The cover had a pig dancing with a bunny under a tree. Some of the poems were: "Carefulness on The Fourth Of July,""Evolution of Heat," "Easter Time" and "The Roadside Stand."
Later, Wayne Cody became "Uncle WIP" both on radio and on TV. The "Uncle WIP" broadcast was always on WIP Radio and the television show was on Channel 10, WCAU-TV as "Uncle WIP." In 1946, it was part of a TV series, "All Eyes on Gimbels" which aired on Channel 3, WPTZ. Around 1948, Wayne Cody moved outside of the Philadelphia broadcast market and another announcer became "Uncle WIP."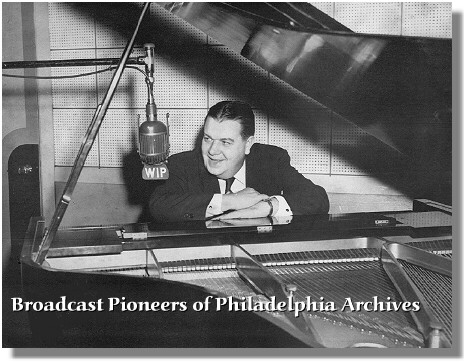 Wayne Cody (Uncle WIP)
WIP Radio
circa 1946
We know as a fact that Wayne Cody played "Uncle WIP" in 1943. In an article in "Band Leaders Magazine," dated January 1946, it said: "Wayne Cody, who doubles as 'Uncle WIP,' puts on his "Start the Day Right" program six mornings a week from 6:55 am to 8:15 am, at WIP, Philadelphia's Pioneer Voice, the Mutual (radio network) station." Wayne was also a vaudeville performer.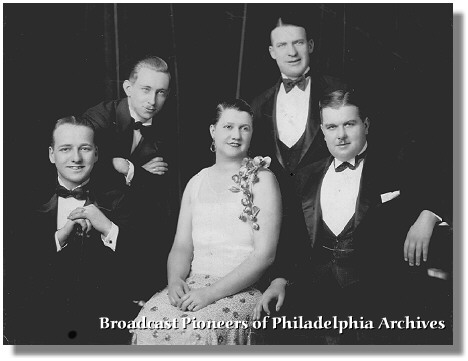 Wayne Cody at extreme right
The woman was Wayne's wife, Ethel Sack Cody
the others are so far unidentified
The Wayne Cody Quintette
circa 1930
While on WIP radio, Wayne Cody wrote and published several songs. "Care of My Heart" was written by Cody, Victor Mojnar and Abner Silver. Cody also penned, "Clancy's Gone and Joined the Army," "Keep 'em Flying for the Good Old USA" and "Daddy's Little Girl."
Wayne's grandson, Shay, e-mailed from Seattle, Washington telling us that Uncle WIP's son was also in the business:
My dad was Wayne Cody, Jr (Uncle WIP was Wayne Cody, Sr.) and he passed away last June (2002). For more than two decades, he was the biggest name in sports broadcasting around here, with an even bigger sense of humor. He spent many years behind the microphone at KIRO Radio and in front of the camera here at KIRO-TV.
David Stanislaw worked for WPCA-TV, Channel 17 in Philadelphia (before it was WPHL-TV). He is Wayne's step-grandson and e-mailed from Wichita, Kansas: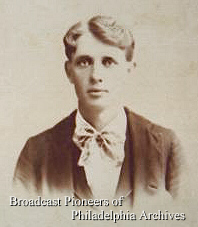 I am Uncle WIP's (Wayne Cody's) step-grandson. (Here) is a picture of his father Shay Cody, obviously a prosperous man in St Louis in the 1920's. The group picture you have (of the Quintette) states "The woman was Wayne's wife," she is Ethel (Sack) Cody, my grandmother.
The photo of Shay Cody, Wayne's father was very common from 1880 to about 1915. We will do not know the exact date of the picture, we will say that it probably dates from that time period.

From the official archives of the Broadcast Pioneers of Philadelphia
Top Four Photos originally donated by Shay Cody, Wayne's grandson
Bottom Photo originally donated by David Stanislaw, Wayne's step-grandson
© 2010 & 2015, Broadcast Pioneers of Philadelphia
All Rights Reserved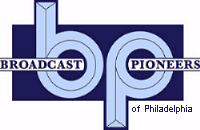 The e-mail address of the Broadcast Pioneers of Philadelphia is pioneers@broadcastpioneers.com