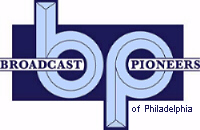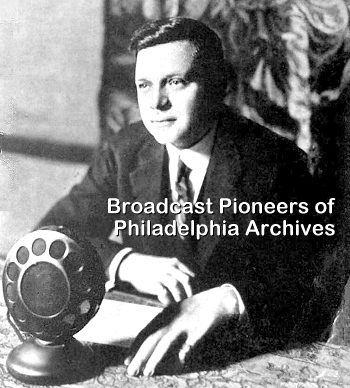 Christopher Graham (Uncle WIP)
WIP Radio
1925

Christopher W. Graham made a place for himself in the hearts of children in the Delaware Valley and across the country. Since there were not many stations, listeners had a chance to hear faraway stations.

To kids, he was better known as "Uncle WIP." He was born right here in Philly in 1893. He passed away in 1932. The station quickly assigned another announcer (James Williard) to become the new "Uncle WIP," but it was never quite the same.

Before his radio career, Graham was known to Philadelphians as a Choir Soloist. He was the leading tenor for the Philadelphia Operatic Society for several years. That's when the opera was under the direction of Wassili Leps.

After the end of World War I, he was the first in Philadelphia to sing a German Opera in Philadelphia. He had the title role in Tannhauser.

His show opening was Hello Kiddies. Well, here we are again. He was 5 feet 10 and weighed 200 pounds with blue eyes and jet black hair.

In 1925, he was so well loved by city dwellers, that the City of Philadelphia provided him with a city vehicle with the license plate "UNCLE WIP." At the time, he was thought to be the city's main spokesperson.

By the way, WIP started official broadcasting on March 18, 1922. Uncle WIP reading children stories at 7:15 pm was one of the station's first programs. It started within days of the inauguration of the station. WIP, at that time, was owned by the Gimbel Brothers Department Store. In fact, the station's studios were right in the business. During the early days of radio, there were no or small radio listings in the newspapers. The department stores promoted their own station in their advertisements. By April 10, 1922, three weeks after WIP went on the air, the listing changed from bedtime kiddie stories to bedtime kiddie stories read by Uncle WIP. Less than two weeks later, on April 21, 1922, the listings started saying Uncle WIP reading bedtime kiddie stories. The kids' host became more important than the material.
In 1923, Uncle WIP was so popular that the department store published a book called, "Uncle WIP's Bedtime Stories." It contained 21 different fairy tales and kids stories including seven pages with illustrations in full color. There were also 43 black and white drawings.
Ed Davies, who was a member of the Broadcast Pioneers of Philadelphia said on September 2, 1964:
The Uncle WIP feature became so popular that Gimbel Brothers opened an office for him to meet the hundreds of mothers, fathers and children, who came into the Children's Department every day to talk with him. He created the Uncle WIP Radio Club. Each member of which wore an Uncle WIP button. He created an aeroplane club for teenagers which met every Saturday morning on the 7th floor of the Gimbel store. And each year, during the summer, the club met in competition at Willow Grove Park at a huge outdoor picnic and competed for prizes donated by the store. More than 10,000 boys, girls and adults attended these affairs.

Mayor Fredland Kendrick of Philadelphia appointed Chris, Honorary Director of Child Welfare in 1925 and furnished him with a city auto with special license plates, "UNCLE WIP," for visits to schools, hospitals and churches. His untimely death in 1930 was a great loss, not only to the station and those of us who were his associates and friends, but to the whole coverage of WIP. On Friday evening, November 16, 2012, Christopher Graham was inducted into the Broadcast Pioneers Hall of Fame.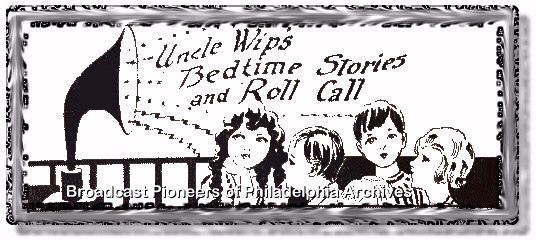 Drawing from the top of "Uncle WIP's" stationery
WIP Radio
January 1924
The above drawing appeared on official station stationery for "Uncle WIP." You would have prepared typed messages on the notes and when he received correspondence from the children, he would simply write their name next to where it said "Dear." The messages would change from time to time but one such communication had this:
Just want you to know, my little one, how much I enjoyed your message which I just received, and hope you will continue to write me.

You are now a member of the Kiddie Club (as spelled on the letter) and if you have not (correct wording) a button, you can receive one when you visit me. I am at my desk from 11-12 am & 3:30-4:30 pm.

I hope you will continue to enjoy the Bed Time Stories.

Thank you, I will close now.

Yours from the smiling pool
The above was typed, and the only thing written by hand was the child's name and Uncle WIP's signature. It was, basically, a form letter (there were several different ones) that were already prepared in advance.

Broadcast Pioneers member Gerry Wilkinson mentioned that his mother, Virginia Wilkinson (then Virginia Rhoades) once appeared on the Uncle WIP show. She and her tap dancing class went down to the Gimbels building sometime in the mid-thirties. No one ever told the kids what they were going to do. They all thought they were going to tap-dance on radio. (The old, "bring tap-dancing back to radio.") They actually sang with no rehearsals. Thank goodness, she said, that she knew the song and the words.
On July 2, 1922, Uncle WIP started a Sunday afternoon program. It was a forerunner to the Horn & Hardarts' Children's Hour which would start six years later on WCAU Radio. On the Sunday program, Uncle WIP would have the kids perform. The show was called "Uncle WIP's Kiddies Hour." Sometimes during its history it was also called "Uncle WIP's Children's Hour." The programs were designed with the idea of building character in the young as well as furnishing entertainment for everyone. Each program included several hymns, a Bible story and vocal and instrumental numbers performed by the area's children.

On Sunday, July 3, 1932, the station celebrated the tenth anniversary of the Sunday broadcast. That day the program started an hour earlier at 1 pm. This show opened with the old hymn "In the Garden" sung by the entire chorus. Evelyn Stimmel, 3 years old sang "My Wild Irish Rose." Carl Greco, a 9 year-old pianist performed a piano solo. Walter Eckhardt sang "I Love to See the Evening Sun Go Down." After "Uncle WIP" read from a special birthday list, 6 year-old Dickie Schmidt sang one of his favorites, "Yeller Dog." Thelma Freifelder sang "Chansonette."
Thelma had been on the program for a long time by that air date. On the trumpet was Henry E. Kolb, Jr. playing "The Charmer." 7 year-old Dorothy Mott recited "Miss Dorothy Entertains the Minister." "Kiss Me Again" was sung by James Brackner. June & Joseph Blake sang a George M. Cohan duet. Uncle WIP then read a Bible story entitled "The Good Shepherd." Closing the broadcast was a piano solo played by 10 year-old Martha Martin, "Variations and Rondo Alla Turca" composed by Mozart. Hays Beatty, an eight year-old saxophonist played "Maria" and Joseph Parise sang "Take Everything But Me."

On Sunday, July 17, 1932, the broadcast was on for an hour from 2 pm until 3 o'clock. On that day, there was a trio of six year-old youngsters. Uncle WIP also read his weekly Bible story. "Crazy People" was sung by little Miss Jane Matsinger. Kathryn McClain sang "Jeanette's Wooden Shoes." Frances O'Donnell, the final six year-old performed "In My Hideaway." There were two instrumental numbers. One was "The Swan" played by Conrad Kolb, the Third. He was a 12 year-old violinist. The other number was done by another member of the Kolb family, Henry. He performed "Hazel Valse Caprice" on the cornet.

While the Uncle WIP program continued into the fifties and was on Channel 10, for a few years, the most popular "Uncle WIP" was Christopher.

In a radio listing dating from Tuesday, June 28, 1932, we found a WCAU Radio program called "The Jolly Man" airing from 5 pm to 5:15. It was probably a daily program, but we haven't yet confirmed this. However, there was a 1935 book issued called The Jolly Man's Juvenile Jingles. It was written by "your radio friend, Wayne Cody, The Jolly Man." The book was paperbound and measured six by 9 inches. Each page had one poem with a small drawing. The cover had a pig dancing with a bunny under a tree. Some of the poems were: "Carefulness on The Fourth Of July,""Evolution of Heat," "Easter Time" and "The Roadside Stand."

Was Wayne "The Jolly Man" on WCAU in 1932? We think so. Here's a question: was The Jolly Man and Captain Jolly, the same person? We think so but aren't sure.

In 1935, "The Jolly Man" was broadcast on WFIL radio. It was a children's show sponsored by Strawbridge and Clothier, a local department store. That business was also owner of WFI which merged with WLIT to form WFIL in January of 1935, just months before. Did Wayne Cody move his broadcast over to WFIL? We think so. Could someone else have played "The Jolly Man" on WFIL? Maybe, but we believe (but cannot confirm) that it was Wayne Cody, who became Uncle WIP in 1936.
In a radio listing dating from Sunday, December 2, 1934, it said: "An attractive holiday menu has been prepared by Uncle WIP for his regular Sunday children's program to be heard over WIP today at 2 pm. Uncle WIP's kittens, juvenile orchestra that has won much fame over the air waves, will play a group of popular numbers. Joseph and Shirley Blake will sing "24 Hours from Georgia." Sousa's popular "Stars and Stripes Forever" will be played by Jack Grenim, talented young accordionist. Ethel Rose will sing "Sweetie Pie." Continuing the diversified program, Helen Cunningham will offer a recitation, My Sister Caroline."
In an article in "Band Leaders Magazine," dated January 1946, it said: "Wayne Cody, who doubles as 'Uncle WIP,' puts on his "Start the Day Right" program six mornings a week from 6:55 am to 8:15 am, at WIP, Philadelphia's Pioneer Voice, the Mutual (radio network) station."
Marybeth Baldwin Highton of Virginia Beach, a visitor to our website writes:
I am 63 years old; born in Philadelphia in 1938. One of my earliest memories is of being taken to an outdoor contest, the night of the Fourth of July, to choose participants for the "Uncle WIP" show on WIP Radio. I sang "How About You?" (I like New York in June, how about you?...)

My mother and dad, Mary and Jack Baldwin, were amazed when at age 3 or 4, I won a place on the show! I vaguely remember Uncle WIP (not the original one ...but my Uncle Wip also had a mustache.) I think it was a weekly Saturday morning show. I recall my parents rehearsing me in songs of the day, Mairsie Doats, Three Little Kittens, and so on. My clearest memory is of the Uncle WIP show being staged in a huge auditorium filled with young guys about to go overseas and fight in World War II. My song? "Rosie the Riveter." My mother carefully coached me in singing the B-R-R-R-R sound of the riveting machine with my head turned in such a way as not to spit all over my good blue velvet and brown lace dress!

Today, I am a widow with seven grown children. I live in Virginia Beach and I am a freelance writer. ...I am developing a little routine whereby I take my portable piano keyboard to nursing homes in our area and sing love songs of the 40s to small groups of residents. I've been amazed at the way music and lyrics live on in our minds, readily available, even as we forget where we last put our car keys! I'm especially touched at the way people with Alzheimer's and Parkinson's diseases respond to music and can remember what one would think were long-forgotten words.

The wonderful neurologist, Oliver Sacks, Beth Abraham Hospital, Boston, says it is thought to be because music attaches itself to emotions, and memories with emotion linked to them are the ones that stay with us the longest. I'm writing this because the memory of Station WIP came through loud and clear this morning as I got ready to meet with an activities director at a local nursing home. It has just occurred to me today that this little routine of mine really had its start with Radio Station WIP well over half a century ago.
Janet Gilmore, a visitor to our website e-mailed:
I just discovered your website - it's terrific! My mother was a performer on the "Uncle Wip" radio program some time between 1929 and 1933. Her name was Jessica Cobrin. ...I found a photo postcard of a boy sitting on a burro in front of a fake Mexican background, the words "Uncle Wip" are clearly printed behind him. This is getting more and more interesting.
Christopher Graham died when he was 39 years old. There is some question as to the year. We have heard 1929. Broadcast Pioneers member Ed Davies said in 1964 that the year was 1930. However, we have a newspaper clipping that was sent to us with no date. That article said that Graham portrayed "Uncle WIP" for 11 years. That would make it 1933. However, we now believe that Graham passed away in 1932.
Regardless of the year, Christopher died in the Episcopal Hospital from having his tonsils removed. He was survived by his father, Christopher Graham, Sr. and an aunt, Mrs. William Exley with whom he resided on Ryers Avenue in Cheltenham, Pennsylvania. The article also said:
For the last two years, "Uncle WIP" has been a feature on the "Children's Day" program at the annual Montgomery county fair in Hatfield and less than a month ago, he spoke to several thousand boys and girls assembled at that place and related to his radio experiences.

From the official archives of the Broadcast Pioneers of Philadelphia
Photo originally donated by Broadcast Pioneers member Al Maslin
Graphic originally donated by Broadcast Pioneers member Gerry Wilkinson
Text written and researched by Broadcast Pioneers historian Gerry Wilkinson
Special Thanks to Charlie Higgins
© 2005,2012 amd 2015, Broadcast Pioneers of Philadelphia
All Rights Reserved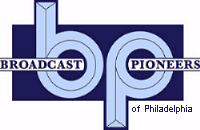 The e-mail address of the Broadcast Pioneers of Philadelphia is pioneers@broadcastpioneers.com