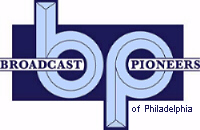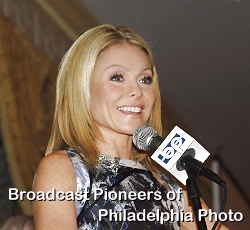 Kelly Ripa
at our Person of the Year Banquet
Friday Evening, November 19, 2010
What an evening this was! It was a who's who of broadcasting. Anyone who is anyone was there.
Our Person of the Year for 2010 was Kelly Ripa who started her TV career right here in Philly by being a regular dancer on "Dancin' on The Air" on Channel 17 and "Dance Party USA." Both shows were produced by Broadcast Pioneers members Frank Nise and his son Michael. Michael serves on our Board of Directors.
Our 42nd Annual "Person of the Year/Hall of Fame" banquet took place on Friday, November 19th at the beautiful Hilton Hotel, City Avenue near Channels 6 and 10 in Philadelphia. Reception was at 6 pm with a tasty dinner served at 7 pm. Ticket prices were $80 for our members and $95 for everyone else. Price included salad, a delicious three course dinner, dessert and your choice of coffee or tea. There was also a crudité table.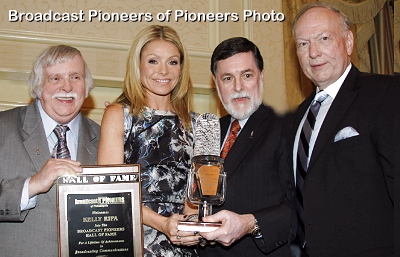 (left to right) Broadcast Pioneers Chairman Gerry Wilkinson, Kelly Ripa
Broadcast Pioneers President Jerry Klein and
Art Moore, producer of "Live with Regis & Kelly" & former president of this organization
Our Person of the Year Banquet
Friday Evening, November 19, 2010
Our Hall of Fame inductees for 2010 were:
Carol Erickson, meteorologist and news reporter for CBS 3, KYW-TV
Peggy King, former girl singer on "The George Gobel Show" on TV
Linda Munich, Vice-President of Public Affairs for 6ABC, WPVI-TV
Dave Neal (Dave Gomberg), news producer at Channels 3,6 and 10
Joe Pellegrino, all round sports guy at Channel 6 and WCAU-TV
Glenn Schwartz, the chief meteorologist for WCAU-TV, NBC 10
Dick Sheeran, former reporter and anchor for KYW-TV, CBS 3
Rick Williams, co-anchor of the noon and 5 pm for Action News, 6ABC
John Zacherle, the cool ghoul, host "Roland" of WCAU-TV's "Shock Theater"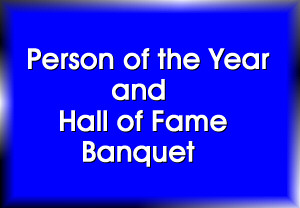 We also inducted the following people posthumously in our Hall of Fame. They were:
Al Alberts, star of the "Al Alberts Showcase" for three decades on 6ABC
Herb Denenberg, consumer reporter and former PA insurance commissioner
Jack Downey, former VP/GM for WCAU Radio, now WPHT Radio
Joe Earley, who was Mr. Rivets on Channel 3 & the postman on "Gene London"
Ed Elias, former Engineering Supervisor for WPVI-TV for a half-century
Steve (Mr. Movie) Friedman, former movie expert and telephone-talk host
Paul Harron, Jr., head of Harron Communications for decades
Paul Harron, Sr., pioneer radio and TV owner including WIBG and Channel 12
Irv Homer, well-known tv personality and radio telephone-talk show host
Sarajane "Cissie" Hurst, TV producer at Channels 3, 6, 10; WPEN PR Director
Bob Klein, innovator of "Urban Contemporary Radio;" GM at WDAS AM & FM
Ed McMahon, sidekick to Johnny Carson, host of several local 50s TV shows
Bob Menefee, former longtime Philadelphia radio host and air personality
Jim Nettleton, one of the original Philadelphia WFIL, Famous 56 "Boss Jocks"
Frank Nise, innovator of modern-day broadcasting lines and TV producer
Nat Wright, the All-Night Rat, host of the Dawn Patrol/WIP Radio for 20 years
Proceeds benefit the Broadcast Pioneers Scholarship Fund and other educational activities. We are a federally recognized, state chartered charity with 501(c)(3) status for federal income tax purposes. Monies raised from last year's banquet plus extra gifts and grants allowed us this past April to give away thirteen $1,000 scholarships to area college students!

VIDEO!
RED CARPET PRE-BANQUET SHOW
We are offering it in two formats. This is a program recorded before the start of the banquet. We spoke with some of the different celebrities attending the event. In our opinion, the Real Video version is better and clearer.
Watch in Real Video!
Watch in Windows Media!

POSTHUMOUS HONOREES

HALL OF FAME INDUCTEES!
all in Windows Media Format!
Carol Erickson
Peggy King
Linda Munich
Dave Neal
Joe Pellegrino
Glenn Schwartz
Dick Sheeran
Rick Williams
John Zacherle

PERSON OF THE YEAR HONOREE!
all in Windows Media Format!
Art Moore introduces Kelly
Kelly Ripa

AUDIO!
Available in Windows Media Format Only!
POSTHUMOUS HONOREES
Al Alberts' niece accepts
Herb Denenberg's producer Ed Dress accepts
Kathy Earley, Joe's wife accepts
Ed Elias' family members accept
Steve Friedman's wife, Michell accepts
Jim Bruder, head of Harron Communications accepts
Irv's son Ronn Homer and Pearl Polto accept
Brian Hurst, Cissie's son accepts
Sonia Leon, daughter of Max Leon and ex-wife of Bob Klein accepts
Members of the Nettleton family accept
Mike Nise, son of Frank, accepts
Tom Moran accepts on behalf of Nat Wright
HALL OF FAME INDUCTEES!
Carol Erickson
Peggy King
Linda Munich
Dave Neal
Joe Pellegrino
Glenn Schwartz
Dick Sheeran
Rick Williams
John Zacherle
PERSON OF THE YEAR HONOREE!

From the official archives of the Broadcast Pioneers of Philadelphia
Photos originally donated by Broadcast Pioneers member Don Hurley
Audio orginally donated by Broadcast Pioneers member Bill Gellhaus
Video courtesy of MetraMedia Studios and Broadcast Pioneers member Brad Seecof
© 2010, Broadcast Pioneers of Philadelphia
All Rights Reserved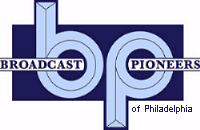 The e-mail address of the Broadcast Pioneers of Philadelphia is pioneers@broadcastpioneers.com