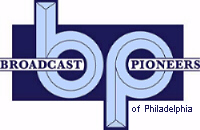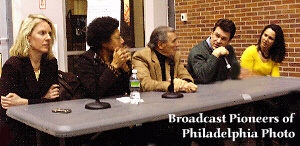 (Left to right) Caroline Welch, Linda Munich, Pat Delsi, John Morris & Erica Grow
Broadcast Pioneers' Career Night at Temple University
Tuesday, March 3, 2009
On Tuesday, March 3th of 2009, The Broadcast Pioneers of Philadelphia held a "Broadcast Career Night" on the campus of Temple University. It was from 6 to 8 pm in the Joe First Media Center in Annenberg Hall.
Our moderator was Bill "Wee Willie" Webber, our Chairman of the Board and a veteran of Philadelphia broadcasting for a half century.
On our panel, we had:
Pat Delsi, former owner of WSSJ Radio in Camden, NJ
Erica Grow, Meteorologist for WVPI, Channel 6 in Philadelphia
John Morris, Executive Producer of New Technology, WPVI-TV
Linda Munich, VP of Public Affairs for WPVI-TV, Channel 6
Caroline Welch, VP of Programming for 6ABC, WPVI-TV
Here's complete audio of the event in both the Real Audio and Windows Media format. We believe the Real Audio is better in audio quality.
The Real Audio version rolls. That is, once you have the the audio playing, it will automatically go from part 1 to part 2 to part 3 without you doing anything. Just sit back and listen.
The Windows Media version does not roll. So you will have to click on each part manually to listen. Each segment is approx. 30 minutes in length.

From the official archives of the Broadcast Pioneers of Philadelphia
Photo originally donated by Broadcast Pioneers member Gerry Wilkinson
© 2009, Broadcast Pioneers of Philadelphia
All Rights Reserved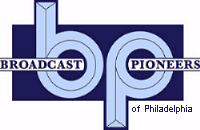 The e-mail address of the Broadcast Pioneers of Philadelphia is pioneers@broadcastpioneers.com