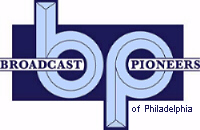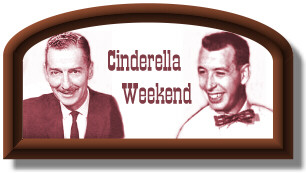 Just like the pumpkin that was transformed into a gold coach, WCAU's "Cinderella Weekend" transformed a railroad coach (then the Pennsylvania Railroad) into the vehicle taking local Cinderellas and their Prince Charmings to New York City for a weekend of sightseeing and entertainment.

"Cinderella Weekend, one of television's first question panel game shows, " had two hosts. The first one was Alan Scott who started the program in 1948. It first was on radio and then a TV version added later that year. Scott hosted both.

In November of 1948, WCAU-TV started a new hour-long television program called "Homemakers' Matinee." It aired from 2 to 3 pm, Monday through Friday. "Homemakers' Matinee" was, in reality, three different shows. From 2 pm to 2:30 pm, it was the "Cinderella Weekend" segment. Then at 2:30, there was a 15 minute piece called "Homemakers at Home" and the last fifteen minutes was a part entitled "On Chestnut Street." The hour-long broadcast had a live studio audience (they were there for all three segments or shows) and originated from the WCAU-TV studios in center city Philadelphia at 1622 Chestnut Street.

"Cinderella Weekend" was basically a TV version of the radio favorite. "Homemakers at Home" was devoted to "home conveniences and time savers." A new 1948 modern kitchen, fully equipped, was installed in one of the WCAU-TV stages. "On Chestnut Street" was a live quarter hour "man on the street" program. Passersby were asked their likes and opinions on various subjects of interest of that time period. The hour broadcast was fully sponsored by Peirce-Phelps, Inc., who distributed home appliances. Also featured on the 60-minute program were Polly Philips, Bill Hart and Gene Crane. Bill and Gene did the "On Chestnut Street" segments.

In 1950, "Cinderella Weekend" became a separate TV broadcast. In the spring of 1954 (when Scott left to go to WPTZ) Bill Hart took over. We don't have an exact date on the change, but an advertisement dated April 3, 1954, referred to Bill Hart as the "new" quizmaster.

The radio and television versions of the show worked very much the same. Each Friday (the show aired Monday through Friday), each version crowned their winner. The TV version had a few more gimmicks but basically it was the same show with the same host.

Both versions had something called "The Faithful Fifteen." While the actual number may have varied from day to day, this group was made up of women who trekked to WCAU every weekday morning to sit in the audience of both the radio and TV version. They usually stayed for any other program, which had a studio audience. The 15 would bring lunch, knitting and sometimes, their hopes. Once in a blue moon, they would get to be on a game show panel. Often, they would win door prizes. In fact, one woman whose husband ran an appliance store, won on four different occasions, a gas stove.

The second host for the show, Bill Hart, said in 1957, "You can count on them even in a blizzard." That was good for the station since the shows went on regardless of the weather. Producer Jack Dolph said, "During the big March (1956) snowstorm, several of them walked all the way here from 54th and City Line Avenue, more than a mile."

All the people on the panel were recruited from the studio audience. Sometimes, they would come as individuals, clubs, church groups or neighborhood organizations. As the women entered the studio, station employees would hand out a printed questionnaire. It asked if they wished to be a panelist on the show. If they did, they were required to supply additional information and some personal background. They weren't screened by quizzes, but four willing contestants were selected at random for each show, whether radio or television. Players had a clock above them that started at 12 o'clock. As they answered questions, they gained minutes. At the end of the game, whoever had the latest time (and the most minutes) was declared the winner.

There was a daily winner per show for Monday through Thursday. On Friday, the four daily winners slugged it out for the "Cinderella" title. That meant each Friday, the station had two winners, one from radio and one from TV.

The winners went to the "Big Apple" the following weekend. They left on Friday and returned to Philly on Sunday evening. If they stuck with prearranged activities, the trip cost them anything. They were given $35 to cover train fare and tips and the rest was charged to the owners of the show.

"Cinderella Weekend" was what was called in the early days of television, "a package show." It was created and developed by a company called "VIP, Inc." of New York City. That company owned the title, controlled the format and actually picked up the tab. In return, each station paid a fee for the rights. Therefore, it would always be a local show.

Several other stations (in other markets) had their version of "Cinderella Weekend." The premise was the same, a trip to New York City. At least two stations (probably more) had the program on the air in 1948. One was WCAU Radio. Who was first? Well, it wasn't WCAU. The program started in Philadelphia in 1948. But on August 4, 1947, it started as a television program on WTIC-TV (Hartford, CT) and remained on the air until May 1, 1953. It was a weekly program. WCAU's versions (both TV and radio) were daily.

By the way, WTIC Radio started "The Musical Clock" program. It was on the air by 1934, possibly earlier. This is where Stu Wayne grew up. In the forties, Wayne became famous doing "The Musical Clock" program here in Philadelphia over KYW Radio.
WHAM-TV (Rochester, NY) had a version on the air of "Cinderella Weekend" in the middle fifties. The announcer was one Ralph Collier. We have confirmed that it was the Ralph Collier of WFLN fame. Ralph later came to Philadelphia and WCAU.

Each station was allowed wide latitude in the actual format. It was always adapted for the locality it aired in. Sometimes, one station would develop an idea and it would spread to others.

WCAU-TV did a thing on the show called "The Stay At Home" Contest. Viewers who wanted to participate send their name, address and phone number to the station on a postcard. Each day, a card was selected. The winner was called on the telephone and asked a question. If she answered the question correctly, she would move on to the next round. Finalists would appear on the air after 13 weeks and the winner would get a grand prize, like a trip for two to Monaco.

Charlie Higgins, a long-time tech at WCAU emails...
A WCAU-TV Daily Program Sheet for Wednesday, July 4, 1956 shows that the TV version of Cinderella Weekend with Bill Hart aired from 2:00 pm until 2:29:30 pm from Studio #1, the auditorium studio. (As early as February 1956 and as late as August 1956, it was in this time period.)

By Wednesday, August 26, 1959, Cinderella Weekend had moved its time to 1:05 pm until 1:28:55 pm. And by Friday, April 15, 1966, TV10 Around Town was in that slot. Don't recall who the "talent" was. (It was Bill Hart.)

The radio version (of Cinderella Weekend) aired from 9:30:30 am until 9:55 am on Monday, June 4, 1956. It was recorded from Studio #1 from 10:15 am until 11:30 am. The extra time allowed for setup, etc.

I also note that the radio version of Cinderella Weekend aired from 9:00 am until 9:30 am on Friday, August 24, 1951.
On Friday, April 9, 1953, Cinderella Weekend was airing from 9:30 am until 10 am. On Monday, September 7, 1953, Home Highlights with Jean Corbett and Bill Hart moved into this time period and "Cinderella Weekend" moved to 3:30 pm until 4 pm. On that date, Action in the Afternoon from CBS-TV (but originating live from WCAU-TV) moved from that time period back to their old slot, a half hour later.
Was the radio version of Cinderella Weekend always live? No! Were the radio and television versions of Cinderella Weekend always different? Charlie Higgins, a long-time tech at WCAU e-mailed:
As best I can recall they were two separate programs airing at different times. Sometimes Cinderella Weekend on radio was live and at other times on tape. What I cannot recall is if I ever did the program live. I can recall doing it in Sewell, New Jersey (pig farm country, phew!) on tape.
The radio version, in fact, originated outside of the station for two months in 1956 & 1957. On one day, it was originated from one community and the next day from another.

Press reports from that era stated that when Cinderella Weekend started on TV, it was a live simulcast; that is, carried simultaneously on radio and television. These same reports also state that it ran that way for a couple years and became separate broadcasts in 1952. A 1957 article confirms this saying that the TV show was done live at 2 pm and the radio version was taped at 11 am and replayed at 9:30 am this next morning.

Broadcast Pioneers member Jack Jones (not the anchor) was Chief Engineer for WCAU AM & FM and Assistant Chief Engineer for WCAU-TV. Jack said that remembers that the radio version of "Cinderella Weekend" came out of Studio R when their studios were located at 1622 Chestnut Street in Center City Philadelphia.
Here's a new bit of information. We have in our archive, a complete radio broadcast from August 20, 1956, that originated from the Tower Theater at the 69th Street in Upper Darby. However, Broadcast Pioneers member Ed Harvey was the host of the particular show. It doesn't mention that he was filling in for Bill Hart. It was recorded on location. Ed Harvey was the radio station's morning man so he would be available for afternoon "on location" recordings. The producer of the broadcast we have was Fred Karch and the announcer was John Edwards.
Charlie Higgins, a long-time tech at WCAU e-mailed:
I remember going on a remote for Cinderella Weekend to Sewell, New Jersey. It was quite a job then as we had to take heavy Ampex Model 400 recorders on which to record plus the necessary mixing equipment, microphones, cables, etc. I cannot recall who the announcer was though.

I also remember having to rush a piece of equipment to replace one that had failed to the Tower Theater in 69th Street for Cinderella Weekend.

The mixers we used then were RCA Remote Amplifiers such as OP-7 (a four position mixer) and an OP-6 (a single position mixer) that had a VU meter on it for monitoring levels. The OP-7 was fed to the OP-6 of course. As an emergency we also carried an RCA OP-5 a four position battery operated mixer.

...John Edwards was an announcer on WIP and WFLN before coming to WCAU. John worked in radio as well as in the TV Announce Booth. He was really a very nice man and excellent to work with always. He was a bachelor. His full name was John Francis Xavier Mulligan. How about that? I think that Edwards was included in there too but I cannot remember. He died suddenly of a heart attack.
Rich Quinn, a visitor to our website e-mailed:
I remember being at our neighbors house, when the families got together to watch TV. Our neighbor was a technician for Pierce Phelps, and had the only TV around. We saw my uncle Leonard running down the aisle on Cinderella Weekend's first TV broadcast. Wow!

A group of us kids, we were about 10 or 12. would walk up to WCAU from our street, the 1000 block of Edgemore Road in the Overbrook section of Philadelphia and get on the show. I won a door prize. A cufflink and tie clip set. I still have it.
There has been some interesting incidents in New York by Philadelphia "Cinderella Weekend" winners. The husband of one of the winners refused to wear a tie (pretty much a requirement in the fifties for men) and stayed in the hotel room for most of the trip while his wife traveled by herself in Manhattan. Another couple decided to have a grand time on this "vacation" and consumed over $80 in food and liquor (over $600 today) in one night. However, the rules of the show called for VIP to pay the bill and the company did so. That Monday, VIP personnel seriously debated limiting the amount they would pay. However, it violated contractual agreements with the stations. They were stuck paying whatever the winners ate and drank.

Bill Bode, director of "Action in the Afternoon" and a long-time hand at WCAU-TV e-mailed that the powers that be at that time had not intended to lose Alan Scott as host but failed to renew his contract when it came up through an error.
In July 1955, WCAU-TV ran a promotion for "Cinderella Weekend." Advertisements at that time said: You can win this new 1955 automobile on Cinderella Weekend.
--------------------

TV Time Periods

November 8, 1948 to November 12, 1948 - 2 pm to 2:30 (part of Homemakers' Matinee)
November 20, 1950 to December 28, 1951 - 1 pm to 1:30
April 9, 1953 to September 4, 1953 (last day in time period) - 9:30 to 10 am
September 7 (first day in time period) to December 18, 1953 - 3:30 to 4 pm
April 1954 - 4:30 to 5 pm
July 12, 1954 to July 1958 - 2 pm to 2:30
June 8 thru August 1959 - 1:05 pm to 1:30
By July 18, 1960, the TV show was off the air

--------------------

Radio Time Periods

1948 to August 24, 1951 - 9 am to 9:30
June 4, 1956 to April 1957- 9:30 to 9:55 am

From the official archives of the Broadcast Pioneers of Philadelphia
Written and researched by Broadcast Pioneers historian Gerry Wilkinson
© 2000, 2012 & 2013, Broadcast Pioneers of Philadelphia
All Rights Reserved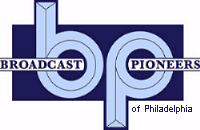 The e-mail address of the Broadcast Pioneers of Philadelphia is pioneers@broadcastpioneers.com