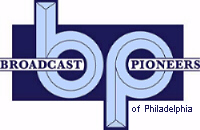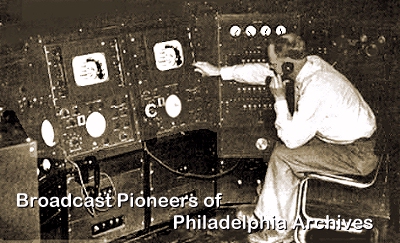 A Philco Engineer in 1941
This photo shows a Philco engineer at the controls. It dates from approx. 1941. Our original source identified the fellow as Paul Adelberger, the chief transmitter operator for WPTZ, Channel 3 in Philadelphia. However, now we aren't too sure of that identification.

Long time WCAU tech Charlie Higgins e-mails:
I just spoke with one of the WRCV-TV transmitter Techs. Much to my surprise he has been retired now for 18 years. Time passes so quickly. He worked with Paul both at the Wyndmoor Transmitter site and at Roxborough. Paul has been deceased now for many years. The transmitter supervisor, Roy Moyer, is still alive as are a few of the others but many are now dead. Roy Moyer also was the remote supervisor and probably could tell you more about the remote truck photo but I don't know him or where he lives. I did meet him perhaps once in the 1950's. I was only a kid.

My guess would be that the photo of Adelberger was taken at the WPTZ transmitter site in Wyndmoor from the looks of the equipment. Channel 3's transmitter was moved to Roxborough under the ownership of NBC when its call letters were WRCV-TV, I think in 1957.

I'm not certain about this but I seem to recall that WPTZ had a transmitter at the Philco plant in Phila. prior to Wyndmoor. That might have been when it was W3XE. The equipment shown might be all Philco and I'd bet it was all custom made because they had a great machine shop at Wyndmoor. Not certain but I guess later on WPTZ had an RCA TT5-A transmitter and when they moved to Rox they had a TT6-A, I think. The TT5-A had water cooled final amplifier stages whereas the TT6-A was air cooled.

Everybody here in Philadelphia had an RCA TT5-A in the early days and in fact WCAU had theirs until 1979-1980 when the new TT50-FH transmitters were installed. However, WCAU-TV had modified their TT5-A to be air cooled about 1974, I think it was, or perhaps earlier. We could no longer buy the 8D21 water cooled finals.

Looks like that's the best I can do.
John Malarkey, the original source of the photo e-mailed Charlie that Paul was a "real nice easy going man. He was at the xmitter from year one!"
Philco moved from the Philco Plant site (C and Tioga) to the Wyndmoor location late in 1942 or very early in 1943. So if this picture was taken at the Wyndmoor site, it would have to be a couple years later than the 1941 date we have given it.
We heard from Robert Miller who is the son of David J. Miller, Jr. He has identified the engineer in the photo as his father, David J. Miller Jr. who worked at Philco, WFIL, WCAU and WEEU-TV. Miller also said:
I, and my brother can say that we are about 90% sure that the photo in question is that of my father. Reasons being the way he crossed his legs, the hairline, and the fact that I have that same exact photo in my father's album for many years.

My father was a true television pioneer who we believe worked with Philo Farnsworth in the early 1930s at Philco. In the mid-1940s he also helped put WFIL and WCAU on the air and in the 1950s was the chief engineer who put WEEU-TV (UHF) television on the air. As a side item, he was responsible for bringing Wee Wlllie Webber to Philadelphia from Reading.

Some early memories in the early 1940s we had one of the first televisions in Philadelphia. Dad would be adjusting the test pattern at the station while on the phone with my mother feeding back to him the changes in the pattern. I remember once he flashed a photo of my brother and I over the air, much to our surprise.
From the official archives of the Broadcast Pioneers of Philadelphia
Original material from the collection of John Malarkey
© 2000 & 2014, Broadcast Pioneers of Philadelphia
All Rights Reserved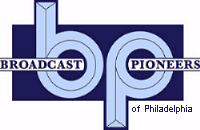 The e-mail address of the Broadcast Pioneers of Philadelphia is pioneers@broadcastpioneers.com