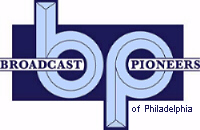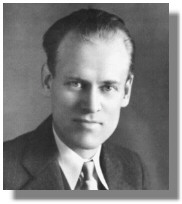 Philo Taylor Farnsworth was the father of today's television. He was born in a log cabin in Indian Creek, Utah on August 19, 1906. When he was 11, the family moved to Idaho by wagon train. He was married in 1926, and the couple headed westward to California. He experimented with television in the twenties, but didn't get involved with the Philadelphia area until 1931.

In that Spring, Farnsworth's organization teamed up with Philco. They became Farnsworth's first official licensee. The company had agreed to pick up the costs of Farnsworth's research and Farnsworth would moved everything to Philadelphia. Philco was now getting serious about entering the television business.

Philo Farnsworth thought that he could get everything rolling within six months, but in reality, it took much longer. Farnsworth got the government to issue Philco an experimental license known as W3XE. He had one of the first home TV units installed at his house, so his son, Philo the Third, could watch "Steamboat Willy," the first Mickey Mouse cartoon. Philco would run the film over and over, fine tuning everything. Philo the Third was probably the first child in the Philadelphia area to watch a cartoon via television. Wonder if Farnsworth ever purchased air rights from Walt Disney?

Philco wasn't the greatest of partners. The Farnsworth's second son, Kenny, came down with a bad case of strep throat and died. The family (they were originally from Utah and were Mormons) wanted Kenny buried in Salt Lake City and Philo requested time off for the burial. Philco refused and Farnsworth wife, Elma, nicknamed Pem, had to handle everything on her own.

In the summer of 1933, Farnsworth left Philco and again struck out on his own. He incorporated under the name "Farnsworth Television" and set up shop at 127 East Mermaid Lane, Wyndmoor, just over the Montgomery County Line, near Philadelphia's Mount Airy section.

During the 1934 summer months, Farnsworth had arranged with the Franklin Institute of Philadelphia to conduct the first full scale demonstration of electronic television anywhere in the world. It was in their Stearns' Auditorium, a small area which could hold only about four dozen people at one time. There was only word-of-mouth publicity but area residents lined up all around the Institute when the doors opened on August 25th of that year. The demonstration was scheduled for only ten days but ran twice that long because of its popularity. The admission charge was seventy-five cents.

Farnsworth having some showman in him, placed a camera near the museum's front door. Everyone who entered could see their own image flickering across the screen, described as "the bottom of a ten gallon bottle."

Programs were transmitted from the roof to the auditorium downstairs. There were vaudeville acts, athletes and politicians coming before the camera. Crowds were brought into the auditorium every 15 minutes and they didn't seem to care much what was showing.

At one point, Farnsworth had a cello player on camera. The lights used (and it took a lot of lighting) were very hot. Extremely high in temperature. It was so hot, the the finish on the instrument was blistering and falling off. Philo didn't let the musician do another number for fear of more damage. Sometimes, Farnsworth used his wife as "talent" and once in a while his secretary, Mable Bernstein of Philadelphia.

Some of the images Farnsworth transmitted at the Franklin Institute (on the Ben Franklin Parkway in Center City Philly) were a young baby, Pem Farnsworth, Mable Bernstein, Joan Crawford, W. C. Fields, Philo Farnsworth III, a shot of the skyline of Philadelphia, Battle ships and an early test pattern.

Meanwhile, Farnsworth's people erected a one hundred foot tower at their Mermaid Lane site with the idea that it would blanket the City of Philadelphia. However, using only 250 watts visual and 1000 watts aural, the signal was far from excellent. Farnsworth operated a licensed experimental station using the calls W3XPF with the station going on the air in the summer of 1936. However, his operating frequencies, 42 MHz to 56 MHz and 60 MHz to 86 MHz were the same as W3XE (the Philco station) and W3XAD, the RCA experimental station in Camden. Except in areas where his signal was the strongest, there would be interference or the reception of one of the two other experimental stations in the area. This is similar to when AM radio first came to Philadelphia in 1922. Everyone was operating on the same frequency. It was chaos in 1922 and was chaos again.

Farnsworth Television also had another first. They built the very first electronic video switcher. This allowed them to cut from one camera to another and back.

Most of the receivers in the Philadelphia area (all still experimental) were in the homes of engineers and technicians who worked for Farnsworth, Philco and RCA. Only a handful outside of the industry had a receiver and these folks had to be wealthy because of the cost.

Finances became a real problem for Farnsworth. New capital was raised and the company went into the manufacturing business making radios. The Wyndmoor Labs were packed up and moved to Fort Wayne, Indiana. This essentially was the end of W3XPF, the experimental television station in Philadelphia that operated from 1936 to 1939. It was shut down and moved to Fort Wayne. There it operated as W9WFT, licensed to Farnsworth Television.

In 1949, the company was sold to ITT, International Telephone and Telegraph. Farnsworth stayed in Indiana until 1967 as an advisor for the ITT plant, his old company. At that time, he moved to Utah where he passed away in March 11, 1971 at 5166 Cottonwood Lane in Holladay, just outside of Salt Lake City.
On Friday, November 17, 2006, Philo Farnsworth was inducted into "The Broadcast Pioneers of Philadelphia's Hall of Fame." Kent M. Farnsworth, son of Philo e-mailed us on the induction of his dad into our Hall of Fame. The Philo Farnsworth official family archives website is at: http://www.philotfarnsworth.com. Kent said:
I am pleased of course. Television went through its adolescence there in Philadelphia. It went from experimental bits in wood cabinets which were indistinguishable from the first models that barely worked, to equipment capable of daily duty producing and broadcasting television signals/programming, along with a studio expressly designed for production of television programming of many kinds.

It is surprising to me that it was so similar to what was finally used in the fifties and sixties. They had programming with multiple cameras, a good picture, completely live entertainment, no commercials and a mobile studio for demonstration. They even had the headaches of providing live programming day after day.

Only a couple years after arriving from San Francisco, Phil considered the East the center for the new television medium, and never returned to California. Had it not been for Sarnoff and the RCA machine, and a world war, Philadelphia stood a good chance of being Hollywood East.

As it turns out, New York City took that role into the sixties. Still, Philadelphia had it all: Washington and New York Cities in close proximity for news and all the technical talent plus a large metroplex rich in humanity, and steeped in the arts; Phil and Pem always felt at home there, indeed, my brother Skee was born there.

Thank you Philadelphia!

From the official archives of the Broadcast Pioneers of Philadelphia
Written and researched by Broadcast Pioneers member Gerry Wilkinson
Photos courtesy of Professor Donald G. Godfrey
taken with permission from his book
Philo T. Farnsworth: The Father of Television
© 2004, All Rights Reserved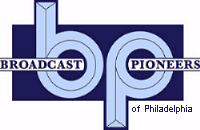 The e-mail address of the Broadcast Pioneers of Philadelphia is pioneers@broadcastpioneers.com