Hit After Hit! Smash After Smash! Blockbuster After Blockbuster! Here was another "monster" lunch where the "stars" don't wait to come out at night. They're here at lunchtime! It all happened on Wednesday, October 15th, 2014.
It was almost a half century ago, that WFIL Radio turned into one of the greatest rock and roll stations in the world! The Boss Jocks took the town by storm.
At this luncheon, you found out all about WFIL, Famous 56 and how it affected American broadcasting. Its legacy has last until today. They owned the marketplace and were icons in United States radio.
Our MC for the afternoon was member Bob Charger, your musical host on WOGL daily from 7 pm until the stroke of midnight. He did such a great job last month that we held him over for another luncheon. Bob was "The Last Boss Jock" to be hired on WFIL, Famous 56 during The Boss Is Back era.

(left to right) Kris Chandler, Lauren Lipton, Ira Mellman
Barbara Sommers, Leigh Richards, Steve Ross and Bob Charger
Bala Golf Club, Philadelphia
Broadcast Pioneers Luncheon
Wednesday, October 15, 2014
Special remarks were by the legendary newscaster Allen Stone (a member of Broadcast Pioneers) telling us about how he got the job with Famous 56. Also some thoughts by Ron Turner of the Famous56.com website. Plus, there was a little something from Dean Tyler, former PD and General Manager most everywhere in town. He'll tell you about WFIL's legacy.
Our panel included (in alphabetical order):
Kris Chandler, Famous 56 Boss Jock during the 1973 - 1974 WFIL era
Lauren (Lauri) Lipton, former WFIL newscaster, now with KYW Newsradio
Ira Mellman, former WFIL newscaster, now with Voice of America
Leigh Richards, board op and boss jock, later, 25 years with country WXTU
Steve Ross, former WFIL Boss Jock, now co-host of WPHT's Remember When
Barbara Sommers, the first female "Boss Jock" for WFIL, Famous 56 radio
Also, live on the telephone, we talked with Kevin Fennessy from Florida. Kevin was the last Program Director under the ownership of LIN Broadcasting (1986 - 1987).
This all took place at the beautiful and historic Bala Golf Club, 2200 Belmont Avenue (across the street from the state police) in the Wynnefield section of Philadelphia. Only minutes away from Channels 6, 10 and 17 and the radio stations in Bala Cynwyd.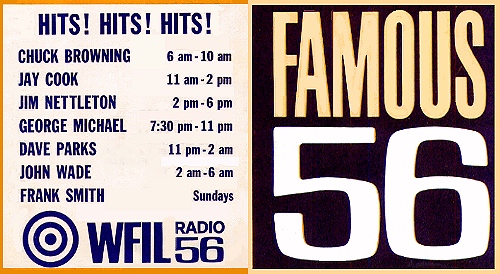 We'll have complete video of today's luncheon shortly on the Broadcast Pioneers YouTube Channel. It will be linked here. In the meantime, we have audio available of our phone conversation with Kevin Fennessy.
Listen with Real Audio!
Listen with Windows Media!
WE WERE PROUD TO SEE YOU IN THE CROWD!