Our Honorees!
Our "Person of the Year" for 2014 is Pat Delsi
In 1953, Pat Delsi began a long-lasting broadcast career at a little station in Vineland, NJ. A year later, Delsi joined WCAM in his hometown of Camden and stayed until 1980. A popular Delaware Valley air personality since the fifties, Delsi has work at one time or another as an announcer, newsman, sportscaster or disc jockey for almost every station in the Philadelphia market, including WRCV Radio and KYW Radio. In fact, in June 1965, Pat did the first newscast on KYW Radio when it returned to Philadelphia, two months before the all-news format was introduced.
Delsi has introduced over a million songs on the air and, as a newscaster, has reported over 150,000 five-minute newscasts in the Delaware Valley. This legendary radio broadcaster has also devoted himself to a life of public service and has served on many boards and committees. Pat has served as this organization's president and then chairman of the board. He has been on our board of directors for over two decades.
TICKETS ON SALE NOW!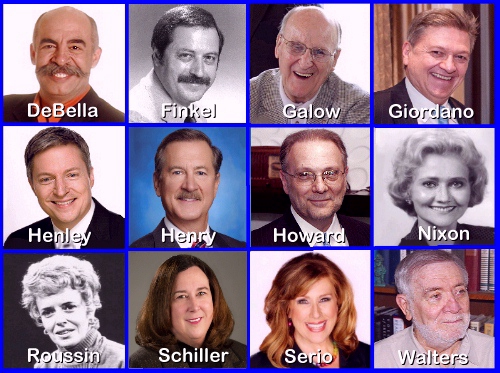 Our Living Hall of Fame Inductees for 2014 are:
John DeBella, longtime Philadelphia morning drive host on WMGK-FM, 102.9
George Finkel, Emmy winning director of Super Bowl & Olympics coverage
Ralph (Bud) Galow, engineer for decades at WRCV and KYW Radio
Dom Giordano, morning talk show host on WPHT, 1210 Talk Radio on AM
Bill Henley, meteorologist at WCAU-TV (NBC 10) for more than 2 decades
David Henry, WPVI-TV news street reporter for almost three decades
Blaise Howard, Vice President and General Manager of More FM, 101.1
Agnes Nixon, creator of modern soap operas All My Children & One Life to Live
Connie Roussin (Spann), legendary TV host of many TV shows on Channel 6
Susan Schiller, Vice President and News Director, CBS 3 & CW Philly 57
Sue Serio, veteran meteorologist and morning Weather Anchor for Fox 29
Fred Walters, legendary executive editor at KYW Newsradio & more
Our Posthumous Hall of Fame Inductees for 2014 are:
Stella Alberts, famed producer of the Al Alberts Showcase on WPVI-TV
Marian Anderson, one of America's best contraltos in the entire 20th century
Walter Beaulieu, engineer extraordinaire for WFIL-TV/WPVI for 4 decades
Ralph Collier, iconic interviewer at WFLN, WCAU, WRTI-FM and WBUX
Joe "Dr. Shock" Zawisklak, iconic horror movie host on WPHL-TV, Channel 17
Warren Kraetzer, former president of WHYY-TV, WUHY-TV and Radio
John Leitch, Chief Engineer at WCAU Radio & WCAU-TV for decades
Bob Mitchell, popular DJ on WIBG during their heyday plus WDAS & WCAM
Fred Sherman, legendary business news commentator for KYW Newsradio
Joe Tamburro (Butterball), VP of Programming & PD for WDAS AM & FM
Ron Tindiglia, developer of the WFIL-TV/WPVI format of "Action News"
Tickets on Sale NOW!
Tickets are on sale now! Prices are $88 for members (each member can buy ONLY one ticket at the member price) and $98 for everyone else (including spouses, friends and guests). The event will once again take place at the Hilton City Avenue, 4200 City Avenue, Philadelphia. The date is Friday, November 21st. The reception is at 5:45 pm and dinner is served at 7 pm. Doors open at 5:30 pm. Cash bar all night long. Valet parking is $10. Event lot parking is $5. Make plans to be there! A major portion of the ticket price may be deductible on your federal income tax. Tickets are on sale now! Ask your tax advisor for details! Tickets must be purchased in advance. Absolutely no tickets available at the door.
Our MCs for the evening are Broadcast Pioneers members Tom Lamaine and Terry Ruggles. Our National Anthem will be performed by members of the National Marian Anderson Gistorical Society and Museum. Blanche Burton Lyles, founder of the society will play the piano and Jillan Pirtle, a Marian Anderson scholar will sing. Member Harry Hurley will lead us in our opening prayer. At the piano for the rest of the evening is Broadcast Pioneers member Dr. Bucky Clark
TICKETS ON SALE NOW!
DINNER MENU (subject to change)
Salad:
Tossed Garden Salad with Raspberry Vinaigrette or Ranch Dressing
Entrée:
Boneless breast of chicken, apples and seasoned corned bread filling with plenty of pan gravy. Seasonal vegetables and roasted potatoes with warm bakery rolls and creamery butter.

OR

Vegetarian entrée tower, cous cous and tomato basil sauce. Seasonal vegetables and roasted potatoes with warm bakery rolls and creamery butter. (If you prefer the vegetarian meal, just tell your server.)
Dessert:
Lemon cheesecake with strawberry sauce

OR

Fruit cups (these are very limited and are for those on special diets only)
Drinks:
Fresh brewed coffee, decaffeinated coffee, tea and water
Cash bar all evening long!
WE WANNA SEE YOUR FACE IN THAT PLACE!