Broadcast Pioneers member Bucky Clark passed away at 8:30 pm on Tuesday, September 29, 2015 from cancer. Many of our people will remember Bucky's smiling face and bubbling personality. He's the guy that has played the background music at our annual banquets for the last 17 years. He also performed often at our Broadcast Pioneers luncheons. Clark also filled in for Larry Ferrari (when Larry was on vacation) on Captain Noah.
Funeral arrangements:
The viewing is this Monday evening, October 5th from5:30 pm to 7:30 pm. Tuesday morning visitation will be 9:30 am until 11 am with the funeral service at 11 am. All arrangements are at the Lehman Methodist Church, 300 South York Road, Hatboro, PA.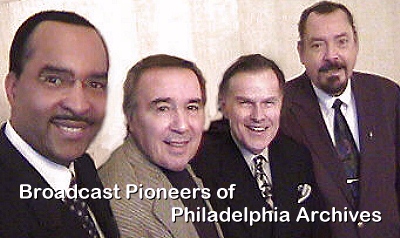 (Left to right) Ukee Washington, Pat Delsi (Chairman of our Board)
member Bucky Clark (Ukee's accompanist) and
Bill "Wee Willie" Webber, Broadcast Pioneers' President
Bala Golf Club, Philadelphia
Wednesday, December 17, 2003
Bio:
Bucky began his career at the age of three on WCAU radio on a program sponsored by Dolly Madison Ice Cream. He was a regular on the "Uncle WIP" radio program on WIP for seven years. Clark also performed on "The Ted Mack Original Amateur Hour" in New York City that was broadcast on the ABC radio network, coast to coast.
Bucky was a performer on "All Eyes on Gimbels" in 1946. Broadcast Pioneers member Harold Pannepacker was a cameraman on that program. On June 6, 1951, Pannepacker wrote:
"All Eyes on Gimbels" was a two part program. Jane King, well-known local actress, presented the first segment from 8:01 to 8:11. She demonstrated and displayed merchandise on sale in the Gimbel Brothers' store and talked about the store's beauty shop service. The main commercial, if such could be called the case in this instance, was for Gimbel's beauty shop service. Miss King, as well as several store models, was seen in a new Gimbel coiffure and viewers were invited to come to the store and have their hair styled by Gimbel's experts. It is worth noting that although there were only 756 sets in the Philadelphia area at that time, May, 1946, Gimbels reported 23 customers came into its beauty salon because of the telecast.

The second part of the program, which ran from 8:11 to 8:34 featured Uncle Wip, the Gimbel Brothers kiddie character, and a group of his talented youngsters. The children sang and danced and displayed their talents. Uncle Wip sang and told stories to the kiddies in the audience. ...The fact that the show ran four minute over did not particularly concern anyone, since television in those days was not as conscious of the hour and half-hour station break or program termination as its radio brothers, today's telecasters.
Bucky Clark was also a performer on "Paul Whiteman's TV Teen Club" which originated live from Channel 6 here in Philadelphia and broadcast coast to coast over the ABC Television Network.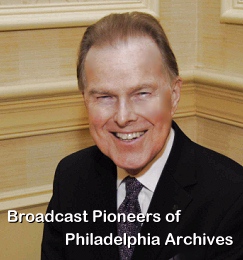 Broadcast Pioneers member Bucky Clark
Broadcast Pioneers Annual Banquet
Hilton Hotel at City Avenue, Philadelphia
Friday, November 18, 2011
He hosted his own radio program over WKOK Radio in Sunbury, Pennsylvania while a college student at Susquehanna University. Bucky worked with Merrill Reese at WBCB in Levittown, Pennsylvania as a disc jockey and newsman. He was also a writer for KYW Newsradio.
Dr. Bucky Clark received his Bachelor of Science Degree in Music Education from Susquehanna University. His Master's and Doctor's degrees were in Educational Administration from Temple University.
He was the past president of the Hatboro Borough Council and was a member of the Montgomery County Industrial Development Authority. He was the Chairman of the Board of Warminster Hospital. Bucky was a widower with a daughter who is employed by Independence Blue Cross in the marketing department. Clark was, until the time of his death, the principal of the Log College Middle School in Warminster, Pennsylvania.