Well, it's been 8 years since we last toured WPVI, 6 abc. Our membership has doubled in that time. Make your reservations to visit Channel 6 and see how things work from the inside.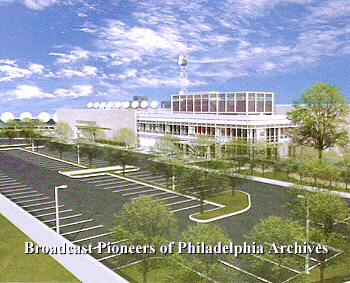 Artist's Sketch
WPVI - 6 abc
4100 City Avenue, Philadelphia
But don't delay, these tours (5 in one day) will fill up fast. Once the space is gone, IT IS GONE. Hurry, snooze and you lose. The 11 am, 12 noon and 2 pm tours are now filled. Space still available in the 10 am and 3 pm tours.
Please, because space is very limited (20 people per tour), you need to make reservations quickly. Rush now!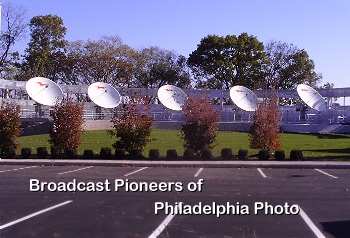 "Where the Round Building Was"
shot from the station's parking lot
WPVI - 6 abc
4100 City Avenue, Philadelphia
October 2010
(Photo by member Gerry Wilkinson)
There will be five tour times: 10 am, 11 am, 2 pm and 3 pm. The 11 am, 12 noon and 2 pm tours are already filled. Space is still available on the 10 am and 3 pm tours.
YOU MUST ARRIVE 15 MINUTES BEFORE YOUR TOUR STARTS! Because of the sheer volume of Broadcast Pioneers attending this event, there will be no parking permitted on the 6ABC parking lot. With all of us, there just wouldn't be any parking spaces for their employees. Parking is available in the nearby areas including the hospital's lot (next to WPVI) for $5.00. You may be lucky enough to find street parking (but don't count on it). Public transportation stops at the corner.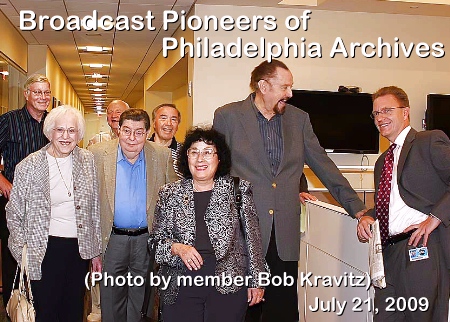 Broadcast Pioneers members speaking with
WPVI's President Bernie Prazenica (a member of Broadcast Pioneers)
WPVI - 6 abc Summer Tour
July 21, 2009
E-mail reservations to rsvp@broadcastpioneers.com. Sorry, only e-mail reservations now being accepted. No more phone reservations! BE SURE TO TELL US WHICH TOUR YOU WISH TO TAKE! Reservations are required. Sign up early. Each tour is limited to 20 persons. Don't be shut out!
At these tours, we will be announcing who is our 2017 "Person of the Year." Also, we'll be telling you who we will be inducting into our Hall of Fame at our annual banquet in November.
WE WANNA SEE YOUR FACE IN THAT PLACE!